TOP THIS: A MONSTER NEWS MONTH NEARING END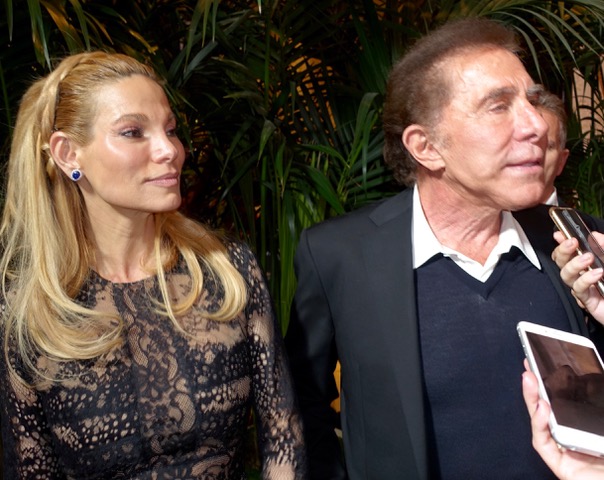 (CAPTION: STEVE WYNN AND HIS WIFE, ANDREA, AT WYNN LAS VEGAS IN APRIL 2016.) PHOTO: NORM CLARKE 2018 is off to a head-spinning start and we still have five days to go.
January has been ablaze with breath-taking developments: Our over-achieving first-year hockey team. A new Steve Wynn hotel project. Another major sports/entertainment area. Elton John's retirement. And sex scandals…major sex scandals. Allegedly.
This week alone casino titans Wynn and Sheldon Adelson separately announced major projects on the Strip.Wynn revealed more details about Wynn West, a 2,000-3,000 hotel which he's building on the former Frontier site where Wynn, then 21, was responsible for uncrating slot machines.
Early in the week Adelson and his Las Vegas Sands Corporations announced a partnership with Madison Square Garden to build an 18,000-seat arena east of the High Roller Ferris wheel.
That latest arena development sets up a three-way, high-stakes competition for an NBA team here. Until this week, it appeared that MGM Resorts had the inside track because it owns T-Mobile Arena, where the expansion Vegas Golden Knights are selling out and the former San Antonio Stars of the WNBA are relocating this fall. Also in the picture is a prospective ownership group headed by former UNLV basketball star Jackie Robinson. They own the land between the Fontainbleau and SLS, formerly the Sahara. This group has been quietly confident it has the backing and friends in the NBA to go the distance.
And that was on Monday.
Tuesday brought news that the Rocket Man, who's been in the rotation at the Colosseum at Caesars Palace since 2004, is retiring at the end of his 300-date, three-year tour. He's been a solid Las Vegas draw over the years. His loss and Britney Spears' departure after four years at Planet Hollywood means Caesars Palace has two major marquee names to replace. Spears is reportedly on her way to the new Park Theatre at the soon-to-be-renamed Monte Carlo.
Two sex scandals that will likely have legs involve two of the most powerful men in America: an already beleaguered President Donald Trump and Wynn, a Las Vegas institution and the Republican National Committee's Finance Chair.
A old story linking Trump with porn star Stormy Daniels re-heated with a fresh details that the then-GOP presidential candidate had Daniels paid $130,000 in hush money to keep details of a 2016 extramarital affair from getting out.
Friday supplied a shocker when the Wall Street Journal reported "dozens" of women are accusing Wynn of sexual misconduct. Wynn, 75, was portrayed as a serial sexual predator, with employees coming forward with alleged accounts of sexual assault, abuse and rape, according to the Journal.
A married manicurist received a $7.5 million settlement from Wynn after she told her supervisor Wynn had pressured her into having sex. The detailed report was filed with the casino's human-resources department.
In a statement to the Journal and sent out as a news release, Wynn stated, "the idea that I ever assaulted any woman is preposterous. "We find ourselves in a world where people can make allegations, regardless of the truth, and a person is left with the choice of weathering insulting publicity or engaging in multi-year lawsuits. It is deplorable for anyone to find themselves in this situation."
Later he blamed the story on his ex-wife, saying in a statement to The Associated Press that his ex-wife, Elaine, is behind a smear campaign. "The conduct of Elaine during the course of the pending lawsuits has been shocking and deeply disturbing to me personally and as the CEO of Wynn Resorts," Wynn said.
All that AND the Vegas Golden Knights are heading into the NHL's All-Star weekend with the second best record: 32-12-4, behind Tampa Bay's 34-12-3.
Hang on. At this rate it's going to be The Year of Shockers.
TO BOOK NORM AS A KEYNOTE SPEAKER OR TO INTERVIEW YOUR GUEST OF HONOR AT YOUR PRIVATE OR CORPORATE EVENT, PLEASE CONTACT JOANNE DOWNEY AT WWW.JOANNELVCELEB@AOL.COM