FLAG-BEARING COWBOY PAID HIS RESPECTS WITH 6 1/2-HOUR VIGIL ON STRIP WITH HIS HORSE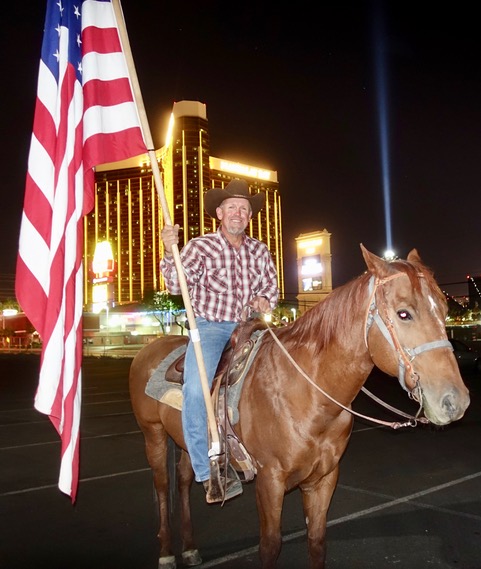 (CAPTION: RAFAEL SARABIA SHOWED UP ON THE GRIEF-STRICKEN STRIP WITH HIS HORSE AND OLD GLORY.) PHOTO: NORM CLARKE.
The mystery of the Mandalay Bay cowboy, spotted on his horse and bearing the American flag on the Las Vegas Strip, has been solved.For more than six hours on Friday, the rare sight of a cowboy, striking an iconic pose across from Mandalay Bay, got a lot of attention.
It turns out Rafael Sarabia, 55, was making a statement yards away from the site of the deadliest mass shooting in U.S. history.
Fifty eight people were killed at the Route 91 Harvest Festival. A Mesquite, Nev. resident, Stephen Paddock, was found dead in a Mandalay Bay suite after apparently firing thousands of rounds into the crowd of 22,000 country music fans.
"All I do this for is to put a smile on people's faces," said Sarabia, a longtime police volunteer from rural Mountain Springs, local about halfway between Las Vegas and Pahrump.
Sarabia was greeted with horn-honking approval, salutes to his flag and photo requests.
"A lot of people approached me in tears. Some took off their hats in front of the flag. Some stopped to pet the horse. One girl told me, 'You put a smile on my face for the first time this week. I cried, a lot," said Sarabia, a country music lover who described himself as a patriot.
After parking his horse trailer near a McDonald's south of the crime scene, he had to take a circuitous route away away from the Strip due to the heavy traffic.
Along the way, several policeman approved of his mission. "Metro was super to me," he said, referring to the Las Vegas Metro Police Department. "One said, 'People need to see this. This is making people feel good." To his surprise, one of the men in uniform was Clark County Sheriff Joe Lombardo, who "told me to get closer" to the Strip and said "Thank you for doing this."
It was a heady moment for Sarabia, who, as a kid, delivered the Las Vegas Review-Journal to showman Liberace and dreamed of being a cop. "I was a paperboy so I could rent a horse," he said. His father is from Spain and his mother is from Bigfork, Mont. One of his four dogs is named "Deputy."
Passersby offered to buy him food during his noon to 6:30 p.m. vigil, he said. A nearby liquor store brought water to Sarabia and his horse, Sonja Red.
After ending his stint on the Strip, Sarabia put his horse in a trailer and insisted on showing a reporter a parking lot adjacent to the concert venue.
"See those two dozen cars and that motorcycle? They belong to victims," he said.
"No way that scumbag son-a-bitch is going to kill off a piece of Americana," said Sarabia.
TO BOOK NORM AS A KEYNOTE SPEAKER OR TO INTERVIEW YOUR GUEST OF HONOR AT YOUR PRIVATE OR CORPORATE EVENT, PLEASE CONTACT JOANNE DOWNEY AT WWW.JOANNELVCELEB@AOL.COM