HEARTBREAKING SCENE: CELL PHONES RANG FOR HOURS AFTER VENUE CLEARED; PLUS THE GESTURE BY A 'NOBLE COWBOY' TO HONOR DEAD & NOTES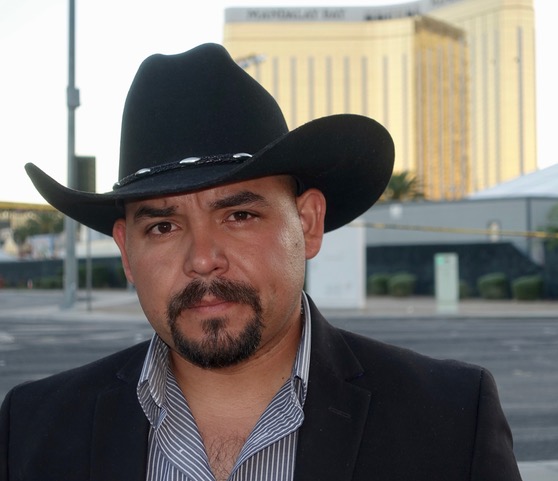 (CAPTION: ISRAEL CABANAS RESPONDED TO THE DEAD AND DYING -  PHOTO: NORM CLARKE) UPDATE: A source described this unbearably sad scene after the Highway 91 festival: Amid the carnage following the shooting and street closures, the only sound heard, other than departing airplanes, was the eerie cacophony of vibrating cellphones and ring tones going off all night long. Also: I received this from a reader: "There were people on scene that were picking up any and all phones they found. They threw them in the back (of a truck)...and handed them off to Metro  (LVPD). Hoping 1. They could extract video and photo evidence 2. Identify victims via photos 3. Contact information for loved ones."
___
UPDATE: Clark County Sheriff Joe Lombardo confirmed in an earlier press conference that in excess of 10 suitcases were found in the room, indicating that's how the arsenal of  assault weapons got in the room.
___
So many dead covered the blood-stained music venue on Sunday that Israel Cabanas looked for any way to respect the victims' privacy."Many were wearing cowboy hats, so we put their cowboy hats over their faces," said Cabanas.
The 33-year-old Mexican singer was at the final night of the Route 91 Harvest country music festival with a credential as a guest/worker, "just to help, but it was mainly as security," he said.
He turned into a first responder when a sniper firing from the 32nd floor of a Mandalay Bay suite transformed the venue into a killing field. Stephen Paddock went back and forth between two knocked-out windows to rake the 22,000 fans with an arsenal of assault weapons that left 59 dead and at least 527 injured – the worst mass shooting in U.S. history.
"We thought and hoped they were just fireworks," said Cabanas. But there was something distinctly different in the sound. "We realized they were high-caliber weapons."
Then he saw people "crawling and dragging themselves, crying for help.
"I thought, 'God, how can I save these people?' We tried our hardest," said Cabanas, who goes by the stage name of El Charro Noble (the Noble Cowboy). He was among many who helped turned crowd-control railings into makeshift gurneys.
"I kept telling the injured, 'Stay calm, stay calm,' but I was having trouble staying calm. It was just so surreal.
"What started as a beautiful night ended as a total nightmare. I didn't sleep last night," he said.
___
After many stampeded out of the festival grounds, they poured into the nearby Tropicana hotel, just north of the venue,
"A lot of bloody people ran through valet," a valet attendant said.
The Trop turned into a temporary refuge for about 2,000 who fled the shooting scene, a hotel rep confirmed.
Some hotel occupants at the hotel said there was a rumor that a bloody body was found near Tropicana and Karen Avenues, but the hotel rep could not confirm it.
___
Update: Sheriff Joe Lombardo confirmed at a press conference on Tuesday that bodies were found blocks away from the festival site. He did not identify where they were discovered.
___
Pickup trucks were pressed into duty as ambulances in the rush to get injured to hospitals.
Savannah Stallworth was working at the concert when the gunfire erupted. She and two friends made it to Stallworth's truck and ended up taking two trips to a hospital with injured concertgoers in the back.
___
Ashley Farkas, executive director of public relations at MGM Resorts International Corp., was among the wounded. She is recovering from a gunshot wound to her left shoulder. Former Las Vegas PR publicist-turned-People magazine writer Mark Gray was at the concert and wrote a harrowing first-person piece for Rolling Stone. Also there: Well-known Las Vegas PR brothers and businessmen Cory and Craig Nyman, who were interviewed Monday by CBS national correspondent Anthony Mason.
___
Las Vegas attorney Cory Hilton weighed in with his theory for a possible motive behind Paddock's shooting spree. Hilton told ESPN 1100 on Monday that Paddock lost a slip-and-fall LAWSUIT against the Cosmopolitan three years ago. Hilton suggested it might not be a coincidence that the shooting came close to the third anniversary of Paddock losing the case, Oct. 3. According to court records, Paddock alleged he slipped in a puddle of liquid and sued the Cosmopolitan for $100,000 in 2012. Hilton raised the possibility that the setback left Paddock disillusioned with Las Vegas.
TO BOOK NORM AS A KEYNOTE SPEAKER OR TO INTERVIEW YOUR GUEST OF HONOR AT YOUR PRIVATE OR CORPORATE EVENT, PLEASE CONTACT JOANNE DOWNEY AT WWW.JOANNELVCELEB@AOL.COM