MY MENTOR GORDIE SPEAR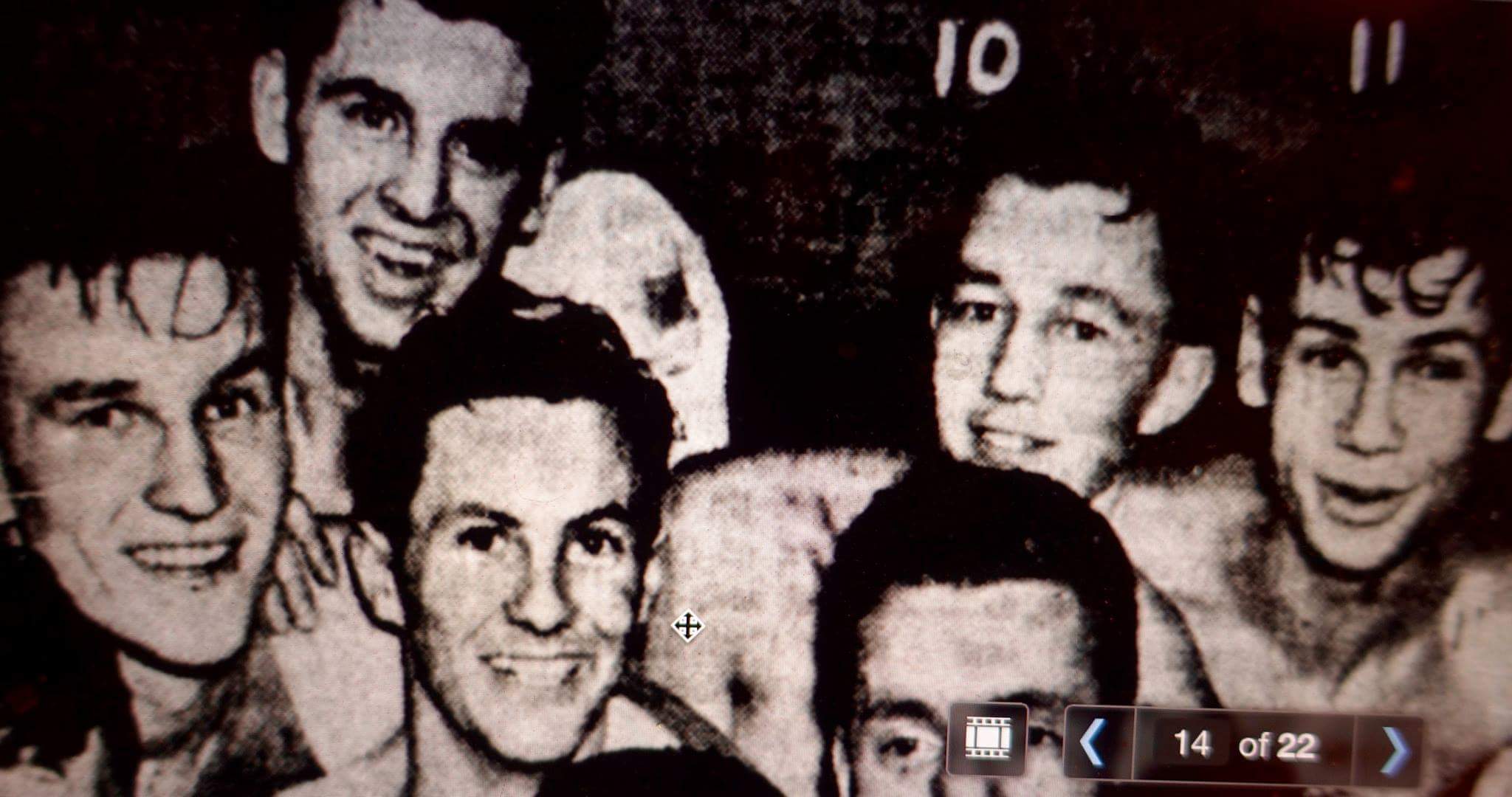 The first coach of the Minneapolis Lakers (now the Los Angeles Lakers), John Kundla, right, died Sunday at the age of 101. He was voted one of the top 10 coaches in NBA history. He was a teammate of my mentor, Gordie Spear (lower left), longtime sports editor of the Miles City Star. I met Kundla in 1971 when Gordie was being honored for some milestone, possibly at a roast. I worked for Gordie, who would have been 103 on July 18, in 1963-64. Gordie joined the Minnesota Gophers as a skinny 6-foot-5 walk-on who went to Minnesota to study journalism and play baseball with his childhood friend Don Lindeberg (who later was the New York Yankees' top scout who George Steinbrenner asked to have final say on the Yankees' No. 1 pick in 1992. Lindeberg checked out the high school kid and gave a wholehearted thumbs-up and a "better than anyone I've seen in California" writeup. The prospect was Derek Jeter.)
Baseball at Minnesota didn't work out for Gordie, but his basketball career was the stuff of Hollywood. For four years he couldn't make the team in Miles City as a guard, but he kept practicing his shot at a peach basket with a volleyball. Then came a late growth spurt during the summer before he went to Minnesota. Defying long odds, Gordie became the starting center as a junior for the Gophers' co-Big 10 championship team, led by Kundla. Gordie's promotion to starter came after he came up big on one of biggest stages in sports— Madison Square Garden in New York City, He came off the bench against powerhouse Long Island University "and proceeded to sink six shots for 40 feet or more," according to the Minneapolis Star-Tribune. The Gophers went on one of the longest streaks in school history. Kundla provided the firepower and Gordie, described as a late bloomer with "a world of promise," quickly developed into one of the top centers in the Big 10 after overcoming some awkwardness from his growth spurt. His play was described as "furiously aggressive."
Gordie was a huge inspiration in my life, not just for his courage, but for his dedication to family and to those of us he "adopted."
I lost my father and my eye when I was around 10 years old and not allowed to play football my first two years in high school. I was as green as they come when I was hired as a Star sportswriter in 1963, after my high school football coach Ray Frank sent a letter of recommendation to the Star.
Gordie was a force of nature: huge personality, great storyteller, and he had the talent to work at any big-city newspaper. But he had survived World War II as a dive bomber in the Pacific and when the war ended his priority was starting a family back home in Miles City with his amazing wife, Alice, who just celebrated her 94th birthday last week at her home in Minneapolis. A year ago she sent me the huge spread the Star-Tribune did on John Kundla.
I owe so much to Gordie Spear, especially my love of storytelling. He was a role model to so many of us kids who came through the Star that it was known among us lucky ones as "The Spear School of Journalism." Gordie died in 1988 at the age of 74. When I came home from his funeral in Miles City, I went to my mailbox in suburban Denver and wished against long odds that there would be one last letter from him. And sure enough, there was.
POWER OF THE PATCH!
TO BOOK NORM AS A KEYNOTE SPEAKER OR TO INTERVIEW YOUR GUEST OF HONOR AT YOUR PRIVATE OR CORPORATE EVENT, PLEASE CONTACT JOANNE DOWNEY AT WWW.JOANNELVCELEB@AOL.COM