Norm's Year In Review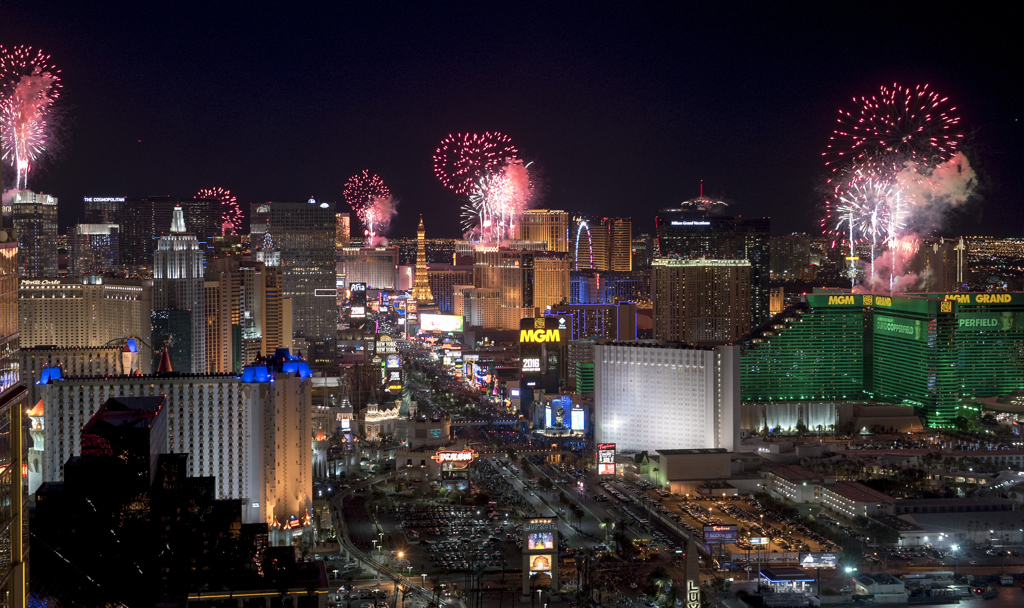 Here's my annual Year in Review:
JANUARY: With his NFL career hanging by a thread because of bad decisions, Cleveland Browns quarterback Johnny Manziel shows up in Las Vegas to party in a blond wig, mustache and sunglasses… Weeks after the disclosure that billionaire casino developer Sheldon Adelson had purchased the Las Vegas Review-Journal, it was reported by the R-J that he was in talks with Oakland Raiders owner Mark Davis to move the NFL's bad boys to Las Vegas… Rene Angelil, the soft-spoken entertainment giant and architect of wife Celine Dion's superstardom, dies of throat cancer at their Lake Las Vegas home… Matt Damon and most of his castmates spent about six weeks shooting the third "Bourne" film along Las Vegas Boulevard. An epic chase scene included cars crashing into Riviera hotel and casino which was imploded a short time later… Jennifer Lopez left us breathless with her all-out effort in her first Las Vegas headliner residency, appropriately titled "All I Have."… Elton John provided one of the year's best sightings when he spent three hours on a shopping spree at Wax Trax, a monument to vinyl.
FEBRUARY: "Jubilee" closed after a 34-year run, one of 20-some show closures that included "Graceland Presents: Elvis the exhibition" at the Westgate Resort less than a year into a 10-year deal with a licensee… UNLV fired under-achieving head basketball coach Dave Rice, a member of the 1990 national championship team, halfway through his fourth season, after going 18-18 in Mountain West play his last two years… Legendary Las Vegas headliner and part-time local resident Steve Lawrence returned to the stage for the first time since the August 10, 2013 death of his wife and show business partner Eydie Gorme with a sold-out performance at Palms Springs' McCallum Theater… Caesars Palace and Celine Dion hold an emotional memorial service for Angelil on the stage at the Colosseum… Pop star Britney Spears and her manager Larry Rudolph meet Democratic presidential candidate Hillary Clinton in Clinton's suite at Caesars Palace. Clinton requested a restaurant recommendation. Spear said that she had reservations at Mr. Chow's (at Caesars) that night.
MARCH: Comedian Marty Allen of Allen and Rossi fame celebrated his 94th birthday with two parties, including one that drew nearly 1,000 fans… Cirque du Soleil creator Franco Dragone confirmed in an email to me that he's working on a project "with the Vegas flavor you can only find in Vegas."
APRIL: T-Mobile Arena opens with The Killers joining Wayne Newton, Shamir, comedian Jeff Civillico, Blue Man Group and Imagine Dragons' frontman Dan Reynolds. The Killers' frontman Brandon Flower autographed a poster of the event for Newton with: "Dear Wayne: You will never know what a thrill it was for me to be on the same stage with Mr. Las Vegas." Newton said he teared up when he sang "My Way" and the crowd lit up their cellphones in a salute… One night after the arena opened, diva Nicky Minaj earned the ignominious honor of being the first entertainer to be booed when her show started an hour and 35 minutes late… Wayne Newton returned to a Las Vegas stage after a six-year absence with his storytelling-driven "Up Close and Personal" show at Bally's Windows Showroom… Scenes from the Tupac Shakur film "All Eyez on Me" were being shot around Las Vegas for a September release timed to the 20th anniversary of the shooting that fatally wounded the rapper… Comedy icon Shecky Green brought down the house for one of the last times during a raucous 90th birthday celebration on "Conversations with Norm" at Cabaret Jazz at the Smith Center for the Performing Arts… Hotel developer Steve Wynn, who was credited with urging fellow billionaire Sheldon Adelson to pursue an NFL franchise for Las Vegas, confirms he met with three NFL owners, Jerry Jones of the Dallas Cowboys, Stan Kroenke of the Los Angeles Rams and Mark Davis of the Raiders. "If the NFL says, 'If you want to move to Las Vegas, Raiders, you can,' then we've got to spring into action and we've got to come up with a program," he said.
MAY: A three-day 90th birthday celebration honored show business giant Tony Bennett, with soirees at the Brooklyn Bridge at New York-New York, a VIP party at the Cleveland Clinic Lou Ruvo Center for Brain Health and the Keep Memory Alive gala at the MGM Grand Garden Arena... Battery charges were filed against Motley Crue front man Vince Neil after he allegedly yanked the hair of a woman who approached actor Nicolas Cage. A TMZ.com video showed Cage screaming at Neil after the altercation then hugging him… A tabloid magazine alleges Fox News Channel's chief White House correspondent Ed Henry, a Las Vegas regular, had a long-term extramarital affair with Las Vegas model, stripper and hostess Natalia Lima. He was taken off the air for four months.
JULY: Pop culture TV sensation "Sharknado: The 4 Awakens" holds a viewing party at the Stratosphere, site of the filming. Many local celebrities are killed off. R-J colleague Mike Weatherford "saves" me from being shark bait during our cameo above 800 feet.
OCTOBER: Caesars Palace headliner Mariah Carey and Australian casino mogul James Packer split after a year-plus relationship. They got engaged in January and their were reports he was letting her keep the $10 million engagement ring.
THE SCENE AND HEARD
Political passion ran at all-time high during the 2016 presidential campaign. So high that a Las Vegas entertainer, after seeing the Trump International Hotel among the resorts featured on the stage backdrop, threatened to back out of a local engagement if Trump's tower remained in the background. A different backdrop was used…
I'm hearing a veteran V.I.P. host is out at one of the big-name brands on the Strip. The transgression, I'm told, was giving credit to someone who didn't qualify…
Imagine Dragons frontman Dan Reynolds and his wife, Aja Volkman, are expecting twin daughters in April. Can't wait to see what they are named. Dan and Aja named their first child, a daughter, Arrow, now four. They met in 2010 as headliners at Wasted Space, the since-renamed club at the Hard Rock Hotel & Casino. She has fronted the group Nico Vega since 2005…
Stripping down in a strip club can either get you a nice-paying job or quickly 86'd. I recently heard this story about a well-known European fashion designer who got naked and went streaking through the cavernous Sapphire Gentlemen's Club several years ago. High on something, or unclear on the concept, he was caught and shown the door.
SPORTS STUFF
What did having the Chicago Cubs in the World Series mean to a popular local Cubs sports bar? "Unbelievable, record crowds and sales after 16 years in business," said Anthony Brandonisio, owner of Brando's, 3725 Blue Diamond Road. "October was the biggest food and beverage month ever and game 7 was the single biggest day ever. Incredible."… I asked Mike Pritchard, former University of Colorado pass-catching great and now a sports-talk host at ESPN 1100, about one of his best times with the late Rashaan Salaam. Pritchard said it happened at a Buffs 4 Life reunion in July 2015. The toasts were flying, along with war stories of their celebrated seasons in Boulder. "We were all talking about how great we were," said Pritchard, tongue in cheek. The talk turned into a challenge about who could run the fastest. "It was Rashaan, J.J. Flanigan, Michael Marques and myself," said Pritchard. They took it outside, in the parking lot at Benders Bar and Grill in Westminster, a Boulder suburb. "It was a 30-yard dash, not 40," said Pritchard. Salaam, the 1992 Heisman Award winner and 1,000-yard rookie rusher as a rookie for the Chicago Bears, won. "He had a big smile. A lot of people cared for him. There were no signs at all that he was struggling. The last time I heard from him was in early August. He called me looking for a contact to help him with a foundation. He had really invested himself in the community, working with kids, to be a role model." Salaam's family received a note and there were reports he took his own life… For four or five years now I've spent a week in Scottsdale for baseball's spring training. Through my friend David McReynolds' annual scout party at his Scottsdale mansion, I've reconnected with many old friends from my sportswriting years and made new ones. One of the rumblings I heard this fall while attending the National League Divisional Series in San Francisco was that the Washington Nationals were not going to be pulled into a megabidding war for Bryce Harper. The biggest reason: His proneness to injury. A recent report by USA Today's Bob Nightengale indicated Harper wants a 10-year, $400 million deal to stay with the Nats after he becomes a free agent following the 2018 season. That story, in my opinion, was leaked by the Nationals to brace their fans to prepare for life after Bryce.
THE PUNCH LINE
"More millennials are looking to get rid of extra piercings and even remove their tattoos. Researchers say it's due to a new phenomenon occurred among millenials called turning 30." – Jimmy Fallon, The Tonight Show, NBC.