PROP COMIC CARROT TOP STILL ON TOP OF HIS GAME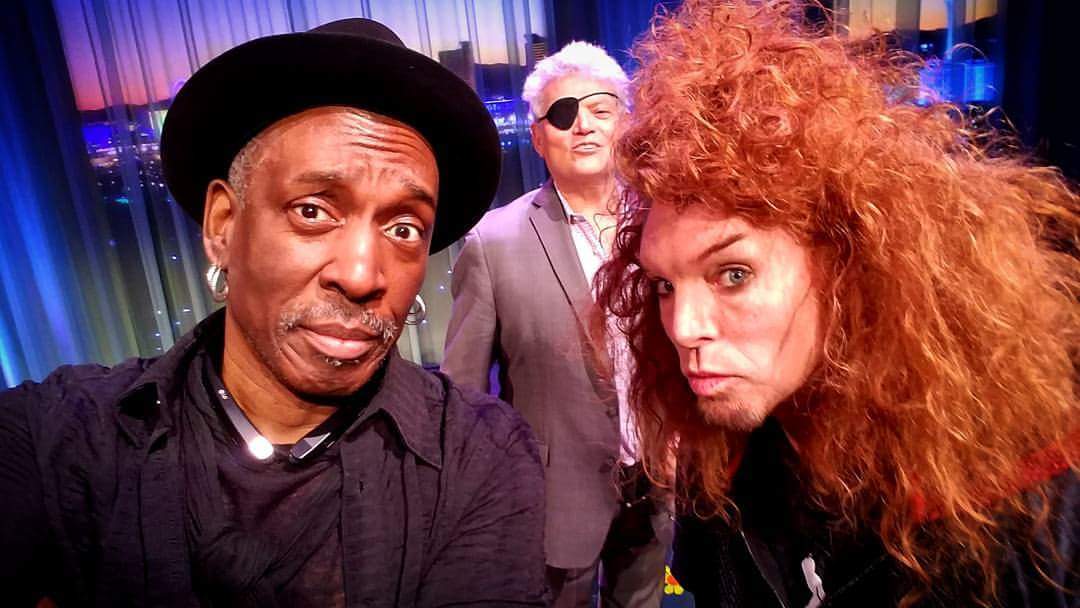 (Celebrity photographer Jerry Metellus and Carrot Top taking a selfie in Cabaret Jazz at The Smith Center with a photobomb by Norm Clarke)
Carrot Top was standing in line at a Chick-fil-A in Los Angeles when the roasting began.
"All of a sudden there was a guy behind me giving me the riot act," said the Luxor headliner.
"I thought, 'What the hell, who's this old guy saying I stole his act? I said to him, 'What are you talking about? I don't even know who you are.'"
Carrot Top heard someone say it was Rip Taylor, the zany comic known for tossing confetti, wearing outlandish costumes and an act built around props and puns.
"I didn't even know he was alive," Carrot Top said during Sunday's "Conversations with Norm" at Myron's Cabaret Jazz at the Smith Center for the Performing Arts.
"I said, 'Rip Taylor, I love you. I didn't steal your act.'"
Stung by the claim, Carrot Top said, "I had to defend myself." He called Comedy Central and host Jon Stewart and said, "You gotta let me get my two cents in on that."
Carrot Top, who considers himself more of an inventor of props rather than a prop punster like Taylor, went to a comedy club and filmed his response.
"So they introduced me and I came out throwing confetti, blatantly doing what he did, and I said, 'Did I take his act?' I think he still hates me."
It wasn't the first time he has been confronted by someone with a beef. About a decade ago he found himself face to face with one of the most intimidating humans on the planet.
"I was at a Billboards awards show in Las Vegas, sitting next to Dennis Hopper, and he said, 'Do you know Mike?' And it's Mike Tyson!"
Tyson had heard that one of Carrot Top's props was a boxing headgear fitted with large rubber ears so, in Carrot Top's words, "Tyson would have something to nibble on."
It was a reference to Tyson's infamous ear-biting incident during his June 28, 1997 fight against Evander Holyfield for the WBA heavyweight championship. Tyson was disqualified in the third round, allowing Holyfield to retain his title.
Carrot Top said Tyson "got right in my face and said, 'You think that thit's (CQ) funny?" "No, no," protested Carrot Top, "I don't think it's funny.
"Then why do you do it?" said Tyson. "It hurt my feelings."
During our "conversation," Carrot Top shared many of the best stories from his career journey leading up to his 22-year run in Las Vegas, first at Bally's and more recently at Luxor.
In the process of our hour-long interview, he broke some news: He's working on getting on ABC's hit series "Shark Tank" about entrepreneurs who pitch big dreams to a panel of prominent investors.
Carrot Top said he wants to get on the show to see how he can market and protect his props. He said people have borrowed his concepts and turned them into products, "things that became real items, about 20 different props."
His confrontations with Taylor and Tyson weren't the only awkward moments when it came to meeting famous people.
"I was in Aspen years ago. I was walking along after working out at gym. It was about 9 in the morning. It was misty. And there's a guy walking across the street toward me and I think, 'Gawd, that's Jack Nicholson.' Then I realized it is Jack Nicholson."
After a freakout moment of trying to decide whether he should say anything, he decided not to.
Nicholson blurted, "Top! I've always wanted to meet you!" He was as down to earth and as nice as he could be."
One night after appearing on "The Tonight Show with Jay Leno," Carrot Top was preparing to leave the NBC studio when Leno invited him to join him on a jet back to Las Vegas.
"It was me and Jeff (his longtime assistant Jeff Molitz) and Jay."
Leno falls asleep on the short flight but is awakened when the plane hits turbulence. "I'm really holding on. I hate this," said Carrot Top.
Leno says, "You don't like rough air?" Then he adds, "You know the worse thing is if this plane goes down and crashes the newspapers are going to say 'Jay Leno dies with two unknowns.'"
Carrot Top, who once was called "the funniest man alive" in a profile by Esquire magazine, had a comeback at the ready.
"It was the first time I saw Jay Leno smirk. I got him right back then. I said, 'You're probably right, 'If I had done 'The Tonight Show' with Letterman I'd probably been known more.'"
Imitating Leno's voice, Carrot Top said, "Oh, that was good Carrot Top, that was good. I thought you were a prop guy."
Then there was the appearance with Regis Philbin and Kathie Lee Gifford before she left the show in 2000.
Donald Trump was co-hosting with Gifford. When Carrot Top was welcomed, he mentioned it was a rare occasion "when I don't have the stupidest hair.
"So (Trump) takes my hand and says 'feel it' and I said, 'no.'
Trump insisted. "Now tell the audience.
"Tell them what," said Carrot Top.
"Tell them it's real," implored Trump.
"I didn't say it wasn't real," said Carrot Top. "I said it was weird."
Carrot Top has requested the footage from ABC.
"They won't release it because they think I'm going to do something horrible. But I'm not. I just want to show my audience my moment."
The scene and heard Longtime Las Vegas headliner Charo was voted off ABC's "Dancing with the Stars" Monday on what was Las Vegas theme-night on week 3 of the 24th season. Charo, 71, and her pro partner, Keo Motsepe, danced a foxtrot to the Dixie Cups' "Chapel of Love."  After being booted she called it "a victory in my mind, in my heart," but the Spanish pepperpot ended her goodbye speech by saying she planned to see judge and nemesis Bruno Tonioli in the parking lot. She and Motsepe received the lowest scores of the night, a total of 24 out of 40…
Las Vegas has another homegrown product in the majors. Amir Garrett of Sierra Vista High School made the Cincinnati Reds roster as the No. 4 pitcher in their rotation. The promising 24-year-old left-hander was named the Reds' minor league pitcher of the year for the second year in a row. He was drafted in the 22nd round in 2011. He chose basketball ahead of baseball coming out of high school when he accepted a scholarship to prep powerhouse Findlay Prep before going to St. John's University.
On this day… April 4, 2001: In my Vegas Confidential column I reported George Clooney and Julia Roberts "put on quite a steamy show" on the dance floor at the "Ocean's 11" wrap party at Bellagio's Fontana Room several days earlier. The affection is cited as a possible reason for her subsequent split with Benjamin Bratt, but both stars deny it.
April 5, 2000: The sham marriage of emergency room nurse Darva Conger and wannabe comedian Rick Rockwell is annulled after several weeks after they marry on stage at the Las Vegas Hilton without ever having met when picked her from contestants on a two-hour live TV show. There is no sequel.
Sightings Brody Jenner, DJ Alesso and Tyson Beckford, partying at Crazy Horse III into the wee hours Sunday.
The punch line "I was thinking about doing something to my wife on April Fools' Day but then I thought, you know what, tricking her into marrying me was more than enough prank." – Jimmy Kimmel.