RELIVING THE 10TH ANNIVERSARY OF ANNA NICOLE SMITH'S DEATH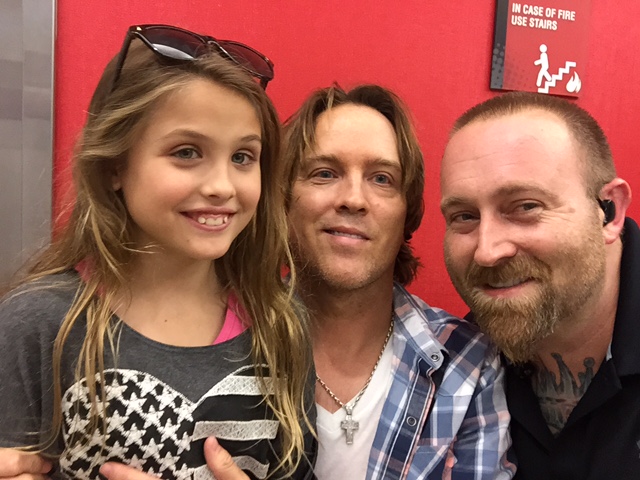 In his first interview since Anna Nicole Smith's death, bodyguard Cory Ardizzone opened up Wednesday on the 10th anniversary of her passing. He's lived with the regret that he wasn't with her.
"The day she passed away I was supposed to be down there (in the Bahamas). I was with another client. It was rough," said Ardizzone, who was a pallbearer at Smith's funeral.
Ardizzone had politely declined my previous interview requests over the years. Other news outlets offered "substantial amounts of money," he said.
"That's not what I do. I've been in the executive protection business for 25 years and I've never said a word about my clients. That's how you keep clients," he said.
Ardizzone described Smith as "a beautiful person who had the biggest heart. It showed at her funeral. There was such an outpouring of love."
Officially, she died of a drug overdose. But Ardizzone is convinced the cause of death was a broken heart.
Her son, Daniel, 20, had died of a drug overdose six months earlier, three days after she gave birth to daughter Dannielynn.
"Daniel was her everything," said Ardizonne. "That's why we didn't fly, because Daniel didn't fly."
Ardizzone's introduction to the pop culture icon took place in Las Vegas when her regular bodyguard couldn't work an event for her.
"They called me and I worked for her for the next five or six years," said Ardizzone, now an executive with Sapphire Gentleman's Club. The cavernous 70,000-square feet topless venue is billed as the world's largest strip club.
He's remained in touch with Larry Birkhead, the father of Dannielynn. They've lived in his hometown, Louisville, Ky., for most of the past decade.
"I actually was on tour with New Kids on the Block two years ago and we were on the east coast. I reached out to Larry and introduced them," said Ardizzone.
MARIAH'S 'I DON'T' A DUD
If Mariah Carey was trying to duplicate Taylor Swift's success for turning romantic breakups into hit songs, it was an epic fail.
The Caesars Palace headliner saw her just-released single, "I Don't," plummet from No. 6 on iTunes over the weekend to No. 61 by Monday.
Carey wrote the song as her engagement to billionaire James Packer was falling apart. During an episode of her reality show, "Mariah's World," she called the song part of the "healing" process.
The lyrics go:
"I tried to make it work
No matter how much it hurt
You had to make it all about you
Tell me why you go and do me like you do?
I went from me and you
To walking right out on you."
During one of the episodes she hinted that their year-plus relationship was disintegrating when he moved their wedding date.
THE SCENE AND HEARD
Meanwhile, Lady Gaga's Super Bowl halftime performance has her fans and critics going, umm, gaga. Her Super Bowl Sunday sales soared over 1,000 percent compared to the day before, from 15,000 to 150,000 digital albums and songs, according to Nielsen Music. On Monday she announced she was bringing her "Joanne" tour to T-Mobile Arena on August 11. Tickets go on sale Monday at 10 a.m., Pacific Time.
ON THIS DAY IN…
February 8, 1963: Tony Curtis married 18-year-old German actress Christine Kaufmann, his co-star in the film "Taras Bulbas," at the Riviera Hotel, with Kirk Douglas as best man. He's 38 and freshly divorced from Janet Leigh. Curtis and Kaufmann have two daughters and divorce in 1968,
February 9, 1996: After a limited release several months earlier, "Leaving Las Vegas" opens nationwide. Nicolas Cage plays an alcoholic writer who comes to town to kill himself and succeeds after befriending Elizabeth Shue's character, a prostitute. It's a huge downer, but Cage wins an Oscar for best actor and the movie scores great reviews. (Random factoid: Leather-lunged U.S. Marine R. Lee Ermey made a cameo as a conventioneer.)
SIGHTINGS
Members of Mexico's national soccer team, taking in Cirque du Soleil's "Michael Jackson One" on Tuesday at Mandalay Bay. They were in town to play an exhibition against Iceland at Sam Boyd Stadium on Wednesday. Rafa Marquez and Gio Dos, who played in the World Cup, went backstage for the meet and greet…
Dallas Cowboys rookie safety Kavon Frazier, signing autographs and posing for photographs at PBR Rock Bar & Grill at Miracle Mile Shops at Planet Hollywood on Sunday.
THE PUNCH LINE
"The Patriots celebrated their big Super Bowl win up in Boston. But I read that Tom Brady is still trying to track down his jersey that went missing after the game. Then O.J. said, 'Whatever you do, just don't try to STEAL it back.'" – Late-night host Jimmy Fallon