SEXUAL MISCONDUCT STORM HEADED TOWARD LAS VEGAS?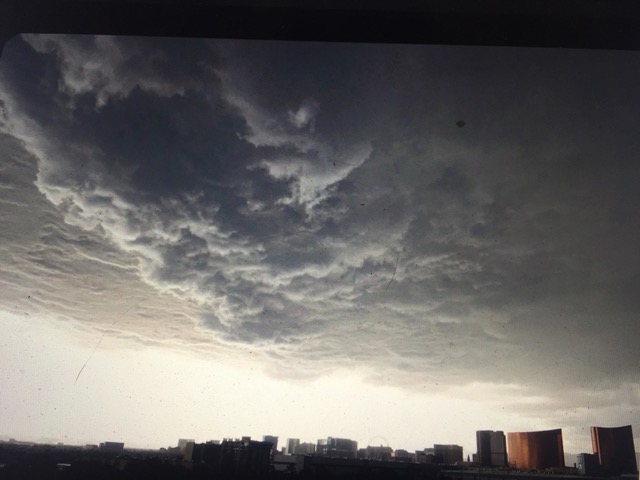 (CAPTION:  STORM CLOUDS OVER LAS VEGAS?) PHOTO:: NORM CLARKE Is Las Vegas next?
Will the unprecedented wave of sexual misconduct scandals sweeping the country claim some big names along Las Vegas Boulevard?
I'm hearing an explosive situation is close to breaking.
There have been rumors for years of payoffs to silence victims of sexual harassment and abuse by gaming industry heavyweights and nightclub operators.
It's no secret that one high-profile casino owner used surveillance cameras to single out beautiful guests and have them delivered to his office. The cream of the crop would be courted with offers of comps ranging from airfare to suites and ritzy restaurants.
Many a tryst gone bad has ended up in settlements or the tabloids.
Fox News chief White Correspondent Ed Henry found himself in a scandal in early 2016 when a Las Vegas stripper went public with their 10-month affair.
Henry, then 45, was demoted after a four-month absence from the airwaves.
BELLAGIO HIT AGAIN
Actor James Woods' proximity to Tuesday's daylight robbery at a Bellagio poker cage reminded me of another celebrity who found himself too close for comfort during one of the most brazen heists in Las Vegas.
Celebrity chef Jose Andres was at the scene of the December 2010 robbery at the Bellagio in which "Biker Bandit" Tony Carleo got away with about $1.5 million in chips. Carleo was later apprehended and sentenced to nine years. He's been incarcerated in Nevada's Lovelock Correctional Center, where O.J. Simpson was imprisoned until recently.
Andres had just opened three restaurants in The Cosmopolitan.
During an interview a few years ago, I asked Andres if that was his closest call involving a gunman.
No, he said. In the1990s, he was visiting a friend in Washington, D.C. when a home invasion occurred. That was as scary as it gets, he said.
These days, he's making headlines for his philanthropic efforts in Puerto Rico. He's been preparing millions of meals for residents of the island state that was battered by Hurricane Maria.
THE SCENE AND HEARD
Look for some major nightlife headlines to pop any day now. One involves a closure and the other two high-profile departures…
Matt Lauer, fired Monday as co-host of the "Today" show over sexual conduct allegations after a 20-year run, returned to Ohio University in 2016 to deliver the morning commencement address and collect his undergraduate degree. Between 2003 and 2017, Lauer donated $166,000 to the Ohio University Foundation. He was instrumental in the development of the internship program. "Yes, I'll be a member of the class of 1997," Lauer told Entertainment Weekly, "which is really going to help me lie about my age later on."
MEDIA UPDATE
Former KSNV-Channel 3 evening anchor Jessica Moore and former Las Vegas festival founder Rehan Choudry are getting married Saturday at Landmark on the Park off Central Park West.. She's an evening weekend news anchor at WABC in New York City since July 2016. She anchored at KSNV for six years. She was briefly married to Jim Snyder, her co-anchor at KSNV. Choudry was the founder of the Life is Beautiful festival…
Myram Borders, a legendary reporter for United Press International in Las Vegas back in the halcyon days of the 1960s to 1990, is back in town. She's my neighbor at the Regency Towers inside the Las Vegas Country Club. I asked her about her memories of the 1980 MGM Grand fire that killed 85 and injured 400. She was on vacation in India when she read a one-paragraph account of the tragedy. "I thought it was a misprint," she said. She called the New Delhi UPI office and got it confirmed. Filling in for Borders was a young reporter, an heiress from a famous newspaper family: Cindy Scripps, the granddaughter of E.W. Scripps.
ON THIS DAY…
November 29, 2007: Wayne Newton tells CNN's Larry King that years before, he invaded Johnny Carson's office to confront the talk-show legend about years of jokes implying that Newton was gay. He said he told Carson the jokes had to "stop now or I will kick your ass."
November 30, 2007: Kevin DuBrow, lead vocalist of the heavy metal band Quiet Riot, is buried in Corona del Mar, Calif., five days after he had been found dead in his Las Vegas home at age 52. Authorities determined that he was the victim of an accidental cocaine overdose.
December 1,1994: Richard Gere and Cindy Crawford announce they are ending their three-year marriage. They had wed Dec. 1, 1991, at the Little Church of the West, flying impulsively to Las Vegas and fashioning rings out of aluminum foil.
THE PUNCH LINE
"MTV announced it's bringing back the original cast of 'Jersey Shore.' Can you believe it? Every single cast member was still available." — Conan O'Brien
TO BOOK NORM AS A KEYNOTE SPEAKER OR TO INTERVIEW YOUR GUEST OF HONOR AT YOUR PRIVATE OR CORPORATE EVENT, PLEASE CONTACT JOANNE DOWNEY AT WWW.JOANNELVCELEB@AOL.COM