A NIGHT WITH BURLESQUE ICON TEMPEST STORM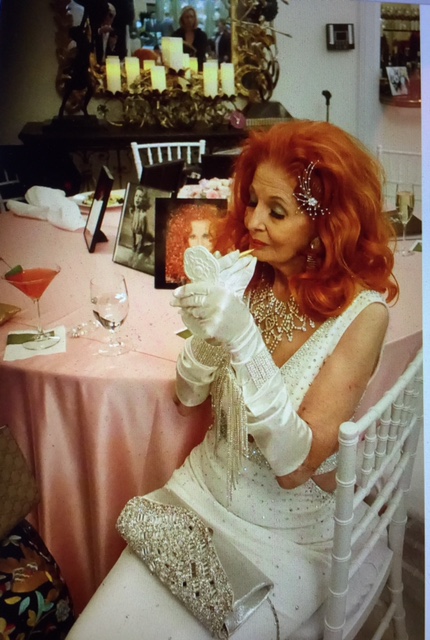 (CAPTION: TEMPEST STORM GETTING READY FOR HER 90TH BIRTHDAY.) PHOTO: NORM CLARKE
On her 90th birthday, Tempest Storm flashed her quick wit on the first question.
In front of nearly 100 friends at the home of socialite Cindy Doumani on Wednesday, I asked the striptease icon to describe her childhood.
Dressed in a white gown and wearing gloves, the last survivor of the golden age of burlesque replied, "That will take about two minutes."
That's because there wasn't much she wanted to remember.
Born on February 29, 1928, Annie Blanche Bank grew up in Eastman, Georgia, the daughter of a sharecropper. She has no memory of her father.
"I came from a poor family. I picked cotton and shucked peanuts and did all kinds of work on a farm," she said.
"My stepfather was not too fun," she said. (Minutes before we started the interview, she whispered a request: please don't go into the ugly details with him. Or the gang rape, that included a policeman, at age 14.)
Traumatized, she ran away from Eastman, a city of about 3,000 known for its antebellum mansions -- palatial plantation homes built on slave labor. Soaked in southern culture, Eastman was given the nickname "Paris of the Wire Grass," after a despised pesky weed that grew everywhere.
Hoping to escape a dismal family life, her main goal was to "work my way up to a waitress."
It was 1942. World War II was raging. On the home front, women drove the economy. She went to Columbus, Ga., 130 miles away, and got a job as a product inspector at a hosiery company.
The first of her five marriages was to a young U.S. Marine who met her while she was a waitress. Under Georgia law, she was freed from her parents' control once she married. The marriage lasted 24 hours.
Life on her own was challenging so she swallowed her pride and returned home. That didn't last long either. At 15 she got married again, to a shoe salesman from Columbus. That marriage was over in six months.
Socially, she went into a shell. She saved her money, hoping she could one day go to Hollywood. She went to the movies and in her make-believe world, the stars were behind the screen and someday she would meet them.
She got her chance to make her dream come true while working as a waitress in Macon, south of Atlanta.
"This good-looking man used to come in there quite often and I talked with him," she said.
One day her friend stopped in the diner and, after some small talk, said, 'Would you like to go to California?'
"I said, 'When do we leave?"
"He was a very handsome man," she said. On the way to California, they stopped in Dallas and the man took her on a shopping spree.
When they got to California, "I met his family."
On June 20th, 1947, the 19-year-old was working as a carhop at Simon's Sandwiches, a popular drive-in near Beverly Hills High School. A regular customer with movie star looks was turning the heads of the young carhops.
He was driving to Las Vegas the next day, he told the Georgia teen. Did she want to go with him? She had the day off and it sounded like a lark, so she agreed.
That night her boss at Simon's called. One of the carhops couldn't make it to work. He needed her to come in the next day. She objected, saying she had plans. Her boss laid down the law: if she didn't come in she would be fired.
A day later the big news in Los Angeles was the mysterious murder in Beverly Hills of Benjamin "Bugsy" Siegel, the mobster who opened the Flamingo over Christmas.
"So my boss saved my life," she told her birthday party attendees.
In 1951, she was a cocktail waitress in Huntington Beach when a patron suggested she would make a lot more money as a dancer.
"You get paid for dancing?" she said.
He recommended she audition at the famous Follies Burlesque in Los Angeles. When she showed up, she asked talent manager Lillian Hunt, "You think my bust is too big." Hunt replied, "Honey, they can't be too big."
She got hired for $40 a week and within three weeks agreed to $60 if she would strip. Hunt suggested she adopt a stage name. "What about Tempest Storm?" Banks asked for a second choice. "What about Sunny Day?" On second thought, Tempest Storm was perfect, she said, given her turbulent past.
That same year she performed in Las Vegas for the first time at the Embassy Nightclub in North Las Vegas. Later she headlined at the Dunes (now Bellagio) and the Hacienda (now Mandalay Bay).
Her big break came in 1952 when she took part in the Mickey Awards, a spoof of the Oscars. Someone had seen her burlesque show and thought she was a rising star.
She arrived in a Rolls-Royce and was presented an award by Dean Martin and Jerry Lewis for "The Biggest Props in Hollywood."
Her career exploded. By 1956, she had signed a 10-year contract at $100,000 a year, making her the highest paid burlesque star.
She's outlived all of her contemporaries: Bettie Page, Blaze Starr, Lili St. Cyr, Sally Rand.
Before the interview ended, the hot topic of the rampant sexual misconduct came up.
"I can't sue anyone," she said, "they're all dead."
THE SCENE AND HEARD
Longtime Hugo's Cellar manager Richard Assalone has met a gazillion celebrities over the years, going back to Frank Sinatra at The Sands' Regency Room in the late 1970s.
One of his friendships forged over decades was with Jim Nantz, the veteran CBS sports broadcaster. Nantz called Assalone a couple weeks ago and invited him to join the CBS crew covering the Genesis Open, formerly known as the Los Angeles Open. Assalone got to watch the tournament from the 18th hole tower. "Jim has a lot of Las Vegas history," said Assalone. 
"He covered Mike Tyson-Evander Holyfield fight," he recalled, "and the Lakers game here when Kareem Abdul Jabbar broke Wilt Chamberlain's all-time scoring record when Los Angeles played some of their games here against the Utah Jazz." That was back on April 5, 1984…
SIGHTINGS
On Wednesday: Vegas Golden Knights players Nate Schmidt and Deryk Engelland signed autographs in the Birdie Bar at Topgolf…
At Mystere by Cirque du Soleil (Treasure Island) this week: the South African and U.S. rugby teams. They are in town for the World Rugby Sevens Series takes place this weekend…
Jennifer Lopez had a sweet birthday party for her 10-year-old twins Max and Emme at the Sugar Factory. The tab came to $7,500. She left a tip for $5,500.
THIS WEEK IN HISTORY
March 2, 1999: Dan Ackroyd, Jim Belushi and John Goodman lead a parade of bikers on Harleys into the Mandalay Bay lobby to celebrate the grand opening of the $950 million resort. Its 12,000-seat events center is christened a month later with a concert by Luciano Pavarotti.
March 3, 2001: John Ruiz upsets Evander Holyfield at the Mandalay Bay to win the WBA title and become the first Latino heavyweight champion in history. The triumph is clouded when tapes show Ruiz avoided a knockout by rolling around on the ground as if he were hit in the groin, when he wasn't.
March 4, 1961: Gene Fullmer wins a 15-round decision over Sugar Ray Robinson at the Las Vegas Convention Center to retain his National Boxing Association middleweight title. It was the fourth and final bout in their storied rivalry and the 40-year-old Robinson's last shot at a title.
March 5, 1991: Wayne Newton posts $13,000 bail for former Diff'rent Strokes star Dana Plato. Down on her luck and living in Las Vegas, she had been arrested five days earlier for robbing the Lake video store of $164 using a pellet gun. Her downward spiral ends in a drug overdose death in 1999.
March 6, 1957: Dean Martin debuts his solo act in Las Vegas at the Sands, before a curious crowd wondering how the crooner would perform without his former partner, Jerry Lewis. The enthusiastic audience includes Jack Benny and Lucille Ball, and the Sands quickly signs Dean to a long-term gig.
March 7, 1987: Mike Tyson, who became the youngest heavyweight champion ever by winning the WBC title four months earlier, defeats James "Bonecrusher" Smith at the Las Vegas Hilton to add the WBA belt to his collection. He'll hold the title until his shocking loss to Buster Douglas in 1990.
THE PUNCH LINE
"The Las Vegas airport has asked passengers to dispose of their marijuana in a special box. In a related story at Las Vegas airport today, Willie Nelson was found hiding in a box." – Conan O'Brien
TO BOOK NORM AS A KEYNOTE SPEAKER OR TO INTERVIEW YOUR GUEST OF HONOR AT YOUR PRIVATE OR CORPORATE EVENT, PLEASE CONTACT JOANNE DOWNEY AT WWW.JOANNELVCELEB@AOL.COM