SCOTT FROST'S FORMER TEAMMATE GUARANTEES NEBRASKA FOOTBALL ON THE REBOUND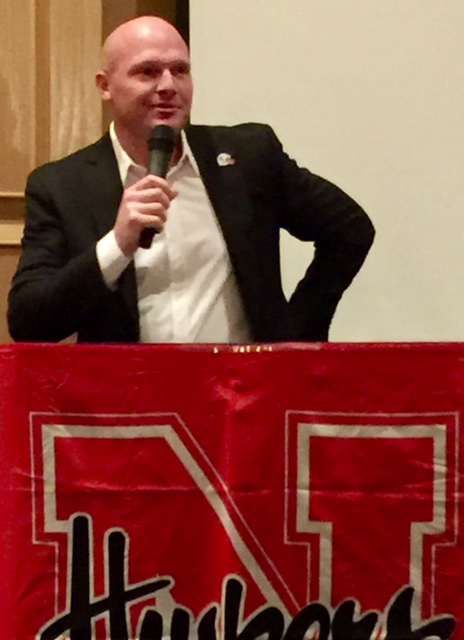 (CAPTION: FORMER NEBRASKA STAR MATT DAVISON RECOUNTS THE RELENTLESS PURSUIT OF EX-TEAMATE SCOTT FROST) PHOTO: NORM CLARKE Nebraska football fans have never forgotten Matt Davison's epic catch against Missouri. Now they hope his role in bringing close friend Scott Frost back home will be an even bigger catch. Davison told a Las Vegas Nebraskans booster club on Saturday that a pivotal point in pursuing Frost came after a 54-21 loss to Minnesota on Nov. 11. It was first of three games Nebraska lost by allowing more than 50 points to close out a 4-8 season under Mike Riley.
A color analyst for the football team for the past 11 seasons, Davison was recently given the added title of associate athletic director of football after his persistent recruitment was instrumental in landing Frost.
"It was painful to watch those games," said Davison. "The Minnesota game was probably my low point as a Husker in my lifetime and at that point I was just angry. I said, OK, we have to do something."
Davison said he was on the telephone nearly "every single day. Scott didn't want to hear it (the recruiting pitch). Finally he said he wanted to come home." Davison repeatedly said "I'm not here to throw anybody under the bus or anything like that," but added "there are reasons you go 4-8." He said Riley's three-year reord of 19-19 "was hard to defend. He didn't take over a program that was broken. We were in pretty good shape."
Nebraska narrowly avoided a loss to Arkansas State in the season opener, winning on the last play of the game. "Then we go to Oregon. What a beatdown that game was (42-14 at halftime before it ended up 42-35). It could have been 80 to nothing if they had put down the gas pedal. Then we come home and play Northern Illinois and that's when things really started to got crazy. We lost that game (21-17) to a directional school and you can't lose those games (to teams) if it says north or south.
"That's when everything started to happen," he said. After that game the school's leadership decided to take action. Athletic director Shawn Eichorst was fired after a turbulent five years. "After we got rid of Eichorst, I knew the next big piece of the puzzle was who we were going to get as athletic director," said Davison. "If we were going to try to get Scott Frost we couldn't get just anybody (as athletic director). He wasn't going to work with just anybody. It had to be someone he could trust. Someone cut from the same cloth."
By mid-October, Nebraska hired Bill Moos, former athletic director at Washington State, Oregon and Montana. When Moos summoned Davison to his office shortly after he was hired, "it was the first time I had been in the athletic director's office since Tom Osborne was athletic director, and that was five years ago," said Davison.
"That's when the process started," he said.
Frost finally agreed after leading Central Florida to a 13-0 season after taking over an 0-12 program.
Davison said he can "guarantee" Frost will get results at Nebraska. "He just has a way of connecting with his players."
TO BOOK NORM AS A KEYNOTE SPEAKER OR TO INTERVIEW YOUR GUEST OF HONOR AT YOUR PRIVATE OR CORPORATE EVENT, PLEASE CONTACT JOANNE DOWNEY AT WWW.JOANNELVCELEB@AOL.COM