ROSSI RALENKOTTER DELIVERS VISION OF SPORTS EVOLUTION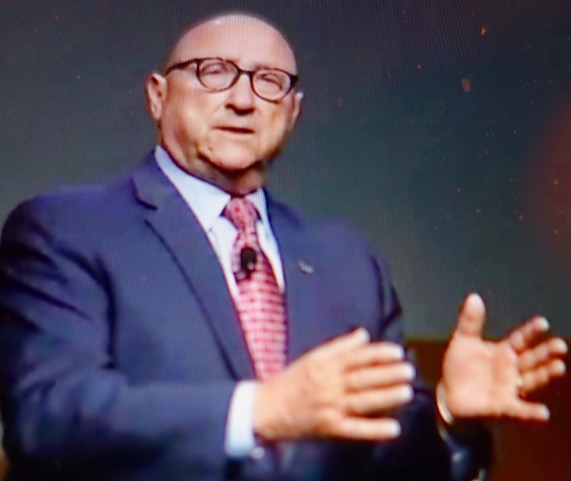 (CAPTION: ROSSI RALENKOTTER PREDICTS CHANGES COMING FAST.) PHOTO: NORM CLARKE  Hold on tight. Changes are coming fast as Las Vegas evolves into a pro sports mecca.
"We can't even advertise on the NFL Super Bowl. That will change fast. Trust me," said Rossi Ralenkotter, president and CEO of the Las Vegas Convention & Visitors Authority.
"We will be hosting a Super Bowl game and we've already made a bid for the NFL draft," Ralenkotter said during a speech at the Metro Chamber's Preview Las Vegas.
With the Las Vegas Raiders due in 2020, "it's going to take us to another level."
Having a new $1.9 billion stadium minutes from the famed Strip, is "going to change the dynamic," said Ralenkotter.
"The fact that we can host a Super Bowl is going to be just unbelievable," he said. "Hopefully we'll be like Phoenix, who evolved the same way we have evolved and we'll have a (major league) baseball team and an NBA team."
With the NHL Golden Knights already here, and capturing the hearts of fans far beyond the city limits of Las Vegas with their first-year success, Ralenkotter sees the NHL taking advantage of the Raiders schedule.
"Just envision this," he told the city's leaders as he looked into his crystal ball.
It makes so much sense, he said, to work on scheduling to accommodate NHL and NFL fans.
Say you got the Buffalo Sabres in town on the same weekend as the Buffalo Bills game with he Raiders.
"Fantastic! Everybody in Buffalo will be in Las Vegas because it's too cold in Buffalo." He predicted a lot of teams will see the value of that because it will bring more of their fans in to support them.
"They're all going to come here," said Ralenkotter. "So what a marketing tool that is for us as well as other NFL teams."
The new stadium will introduce more people to Las Vegas through international events and UNLV football, as well.
"So all of that is going to bring even more and more people. That component changes our marketing efforts on the event side. So you'll be seeing us strategically placing dollars to try to bring more of that in," he said.
ALARMING SITUATION
The false missile alert in Hawaii on Jan. 13 hit close to home.
Longtime friend and former Las Vegas resident Adam Lieberman has worked as a concierge in the Hawaiian islands since 2013.
Prior to that he was the lead concierge at The Cosmopolitan for a couple years.
"I was working at the concierge desk when we got the text," he told me. "First thing I did was call my mom (Karen in Las Vegas) and say goodbye. Scariest moment of my life!"
The emergency alert that was sent around 8:07 a.m. Hawaii time by the Hawaii Emergency Management Agency read: "BALLISTIC MISSILE THREAT INBOUND TO HAWAII. SEEK IMMEDIABLE SHELTER. THIS IS NOT A DRILL." AT 8:20 a.m. Hawaii EMA tweeted "NO missile threat" to state officials, but failed to send a phone alert for another 38 minutes, creating mass panic among people who weren't able to check social media.
Adam's late father, Frank Lieberman, was a publicist for Sammy Davis Jr. in the early 1970s and for the legendary Siegfried and Roy from 1996 to 2003. He also represented Tony Danza, Tony Orlando and Engelbert Humperdinck.
MEDIA UPDATE
Las Vegas sports-talk fixture Seat Williams has left KBAD-Radio (NBC 920 AM). He has been an institution at Lotus Broadcasting for more than two decades. After years on Gridlock (ESPN 1100) he teamed with Review-Journal lead sports columnist Ed Graney in recent years on KRLV-AM (1340)…
Mitch Fox, longtime host of Vegas PBS's "Nevada Week in Review," was named president and CEO of the Nevada Broadcasters Association last week. In a Facebook post, he said former president and current Las Vegas Metro Chamber of Commerce president and CEO Mary Beth Sewald and the NVBA Board "have positioned the organization as one of the most respected broadcasting organizations in the country. I look forward to working with the NVBA staff members and board members to build upon that success and to raise the visibility and increase the influence of broadcasters throughout Nevada." He was host and producer of "Nevada Week in Review" since 1987 and was a member of the Vegas PBS news and production team for more than 35 years. He was communication director for North Las Vegas from 1914 to 1916.
ON THIS WEEKEND IN LAS VEGAS HISTORY…
February 3, 2001: The Las Vegas Outlaws defeat the New York/New Jersey Hitmen, 19-0, at Sam Boyd Stadium in the inaugural game of the XFL, the upstart football league founded by wrestling mogul Vince McMahon. The Outlaws finish 4-6 and the league folds after one season. February 4, 1987: Liberace, one of the most popular performers in Las Vegas history who lived in the city for much of his life, dies in Palm Springs, Calif., at 67. Mourners flock to his glitzy museum, which opened in Las Vegas in 1979. But it closes in 2010 and the artifacts of his bedazzled life go into storage.
February 5. 1909: The Nevada Legislature carves a new county out of Lincoln County and names it for Montana Sen. William Clark, a railroad magnate. Las Vegas, founded four years earlier, is chosen as the county seat over Searchlight, a mining town 60 miles south.
SIGHTINGS
Macaulay Culkin of "Home Alone" fame, among a bachelor party group at Oscar's Steak House (Plaza) on Friday. They took in Frankie Scinta's show and invited him to dinner… Nick Carter of the Backstreet Boys, celebrating his 38th birthday on Thursday at Topgolf (MGM Grand)…New York Yankees slugger Alex Rodriguez, in town last weekend to see his girlfriend, Jennifer Lopez. They dined at Yellowtail Restaurant & Lounge (Bellagio) before she performed in her show at Planet Hollywood.
THE PUNCH LINE
"Omarosa is going to be a cast member on 'Celebrity Big Brother.' She said that after a year in the White House, she just wanted to be in a house without so much drama." – Jimmy Fallon
TO BOOK NORM AS A KEYNOTE SPEAKER OR TO INTERVIEW YOUR GUEST OF HONOR AT YOUR PRIVATE OR CORPORATE EVENT, PLEASE CONTACT JOANNE DOWNEY AT WWW.JOANNELVCELEB@AOL.COM