BIG CHANGES COMING ON THE STRIP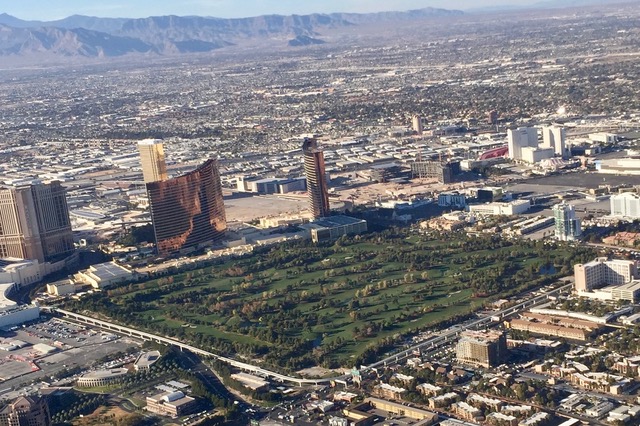 (CAPTION: INITIAL WORK HAS BEGUN ON STEVE WYNN'S LATEST BIG PROJECT.) PHOTO: NORM CLARKE Two new major projects will soon reshape the north end of the Strip.
Cranes are already in place at the former Stardust site, where the Chinese-themed Resorts World is going up near Wynn Las Vegas.
That site has seen little activity for nearly a decade, since closing Nov. 1, 2006. It was imploded March 13, 2007 and Boyd Gaming, the owners of the Stardust, began construction on the replacement, Echelon Place. But that was stopped in its track within months by the dramatic economic downturn. The new owners, Gentings Group of Malaysia, hope to have the $4 billion project completed in 2020.
Over at Wynn Las Vegas, initial work is underway on Paradise Park, the $1 billion-plus Disney-style waterpark project/lagoon development. It is replacing the former Desert Inn golf course, long the only golf course on the Strip. Wynn has long touted the golf course as the one of the most valuable underdeveloped land in the country.
NAME CHANGE AT MANDALAY BAY?
For those wondering if Mandalay Bay might be re-named after the country concert mass shooting, I see it happening.
There's a historical precedent.
After the MGM Grand fire in 1980 claimed more than 80 lives and injured hundreds, the hotel was sold to Bally's six years later and a new MGM Grand was built a couple miles away at the intersection of Tropicana and Las Vegas Blvd.
That property, the city's first megaresort and largest hotel in the nation, will celebrate its 25th anniversary in December.
The original, built for a then-staggered $106 million, opened Dec. 5, 1973 with Rat Pack star Dean Martin hosting the VIP gala.
THE SCENE AND HEARD
Update: Ageless comedian Marty Allen, 95, said he's on the road to recovery after breaking his hip on Christmas Day. He posted this update on Facebook on Thursday: "They're working on me like a horse in rehab, but it looks like I'll be ready to roll in the weeks to come." He's definitely a warhorse. He turns 96 in March and I'd wager he's celebrating it on stage…
I'm hearing the security chief at Mandalay Bay was in the crowd at the Oct. 1 mass shooting and heroically assisted victims, only to later discover he couldn't get in the resort until morning due to the lockdown…
Spies tell me the tragedy has taken a physical toll within Mandalay Bay's management ranks, with many gaunt from stress and long hours.
Attendees at Kristin Chenoweth's delightful New Year's Eve concert at the Smith Center for the Performing Arts encountered tightened security. They were requested to open their coats and jackets at the entrances. Theaters around the country have instituted the measures in the wake of the recent mass shootings…
A belated note about the Dec. 16 death of lounge legend Keely Smith. She died in Palm Springs at the age of 89. She and her husband Louis Prima teamed up with bandleader Sam Butera to unleash the lounge era in Las Vegas in the 1950s. Prima and Smith won a Grammy in 1959 for their hit "That Old Black Magic." In 2000, during the 50th anniversary gala of the Desert Inn, I was seated at a VIP table when someone tapped me on the shoulder. A petite lady with short black hair said, "Thank you for mentioning me in your column today." It was Smith. I never had the pleasure of meeting any Rat Pack members--the closest I came was a telephone interview with Joey Bishop a few years before his death. I was forewarned he might be cranky and he was, before warming up. Smith was a delight and I was honored to meet true Las Vegas entertainment royalty. R.I.P.
SPORTS SNIPPETS
Bobby Knight disciple Chris Beard is alive and doing well at Texas Tech after spending about three weeks as UNLV's head basketball coach. That bizarre chapter in UNLV history happened two years ago after Beard guided Arkansas-Little Rock to a 30-5 record and an NCAA berth in his first season, with 12-seeded UALR knocking off fifth-seeded Purdue 85-83 in double overtime. His latest team has impressive wins this year over seventh-ranked West Virginia in overtime and Kansas, 85-73, on Tuesday, the Jayhawks' worst home loss in 15 years…
While taking a holiday break in Lincoln, Nebraska, the hometown of my wife, Cara, I took in a very competitive Nebraska-Kansas game. KU won, 71-70. I've been a fan of the Nebraska basketball program since former Colorado State coach Tim Miles landed there six years ago after building a reputation of having his teams ready for the Mountain West tournament. He's got one of his better teams this year. Lee Barfknecht of the Omaha-Herald came close to predicting the Huskers will make the NCAA tournament. "The ingredients are there," Barfkneckt wrote. The Big Ten title "may never be more 'gettable,'" he wrote. He bases his optimism on a "depth of talent not seen since the Danny Nee era." Miles took CSU to three post-season berths and four years ago took a Huskers team that was picked to finish last in the Big Ten to the NCAA tourney for the first time in 16 years.
ON THIS DATE
January 3, 2004: Britney Spears marries childhood friend Jason Allen Alexander at 5:30 a.m. at the Little White Wedding Chapel in Las Vegas. Amid an international media furor, the marriage is annulled 55 hours later, with her publicist claiming the couple "took a joke too far."
January 4, 1974: Snow, a rare event in any amount in Las Vegas, starts to fall and continues over two days, resulting in a record-breaking nine inches on the ground. January 5, 2000: Celine Dion and Rene Angelil renew their marriage vows in a lavish ceremony at Caesars Palace that features a mosque setting with Berber tents, camels and exotic birds, and 200 guests.
January 6, 1997: Herbert "Fat Herbie" Blitzstein is shot to death in his Las Vegas home, victim of an apparent mob hit. He was a major figure in the Chicago mob's Vegas operations, reportedly running loan shark, insurance fraud and burglary rackets. The character Bernie Blue in "Casino" was based on him.
THE PUNCH LINE
"President Trump gave a big speech on National Security. He focused on the three biggest threats to our country—Russia, North Korea, and Omarosa." – Jimmy Fallon
TO BOOK NORM AS A KEYNOTE SPEAKER OR TO INTERVIEW YOUR GUEST OF HONOR AT YOUR PRIVATE OR CORPORATE EVENT, PLEASE CONTACT JOANNE DOWNEY AT WWW.JOANNELVCELEB@AOL.COM