CLEOPATRA'S BARGE HAS A NEW CREW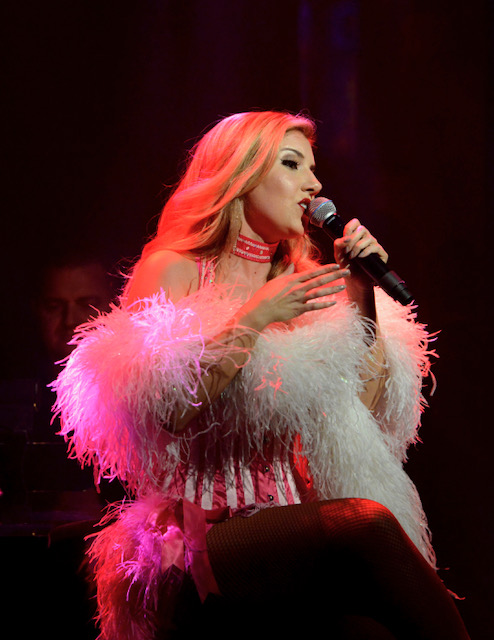 (CAPTION: MAREN WADE APPEARING WITH "COCKTAIL CABARET".) PHOTO: GLENN PINKERTON - LAS VEGAS NEWS BUREAU. A new afternoon show at Cleopatra's Barge is catching some wind in its sails.
"The Cocktail Cabaret" launched more than a month ago at the popular Caesars Palace space and the local critics are weighing in with a wave of favorable reviews.
The 70-minute show, which starts at 5 p.m., primarily celebrates Vintage Vegas. It is performed by a talented cast and produced by Broadway veterans Keith Thompson and Philip Fortenberry.
Cast member Maren Wade described it as "the perfect cocktail-hour experience by a group of musicians who inspire me every day." Joining Wade, who starred in "50 Shades the Parody" for more than a year: Niki Scalera ("Hairspray," "Tarzan" and "Jake's Women," all on Broadway), rising star Daniel Emmet (Josh Groban-esque, says Wade) and the piano artistry of Fortenberry.
Thompson spent years as the musical director of Las Vegas "Jersey Boys."
The show's onstage host is Eric Jordan Young, a Broadway veteran who's local credits include playing Billy Flynn in "Chicago" at Mandalay Bay.
Cleopatra's Barge opened in 1970, four years after Caesars Palace opened. Oldtimers recall seeing Rat Pack star Frank Sinatra and Dean Martin showing up at the ornate floating barge. Sinatra was known to perform there after his headlining gigs at Caesars.
It runs Wednesday through Saturday. The show is filling the space vacated by British crooner Matt Goss, who had a six-year run.
David Letterman's longtime bandleader and sidekick, Paul Shaffer and his band, the Shaf-Shifters, wrap up a nine-date run on Saturday night.
TO BOOK NORM AS A KEYNOTE SPEAKER OR TO INTERVIEW YOUR GUEST OF HONOR AT YOUR PRIVATE OR CORPORATE EVENT, PLEASE CONTACT JOANNE DOWNEY AT WWW.JOANNELVCELEB@AOL.COM