OH BROTHER! AN EYEWITNESS ACCOUNT OF THE MEXICO CITY EARTHQUAKE (Photo: Jeff and Jenny Scheid of Las Vegas were in Mexico City during the deadly earthquake.)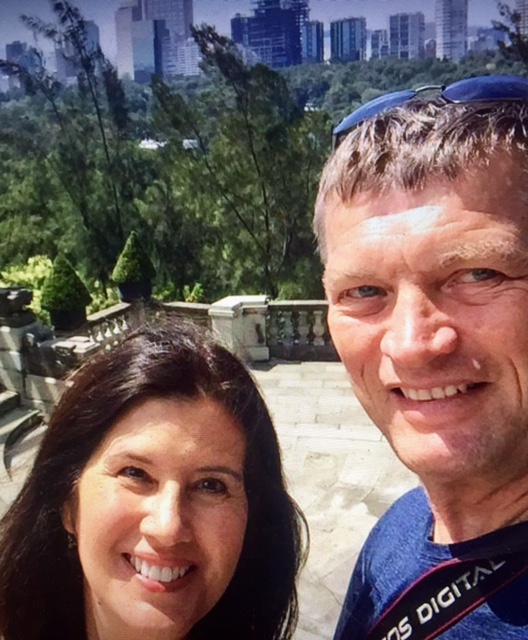 Today was a first: After covering many major disasters — from earthquakes, fires and a hurricane -- during my 50-plus years in journalism, I found myself in the unusual position of interviewing my brother, who was in the heart of Mexico City when the 7.1 earthquake hit Tuesday. Jeff and Jenny Scheid of Las Vegas arrived last there Wednesday for a one-week stay.
One of the biggest shocks of my life came about 1:30 p.m. today when I saw breaking news about the earthquake on TV.
I immediately sent Jeff a text but it bounced back. I frantically started scrolling through Facebook and was relieved to see Jenny had posted a "we're OK" to a friend.
I called Jeff's cell phone and was surprised when he answered. They were on their way back to their apartment on what turned out to be an eight-mile walk. It was a 10-second conversation. His telephone battery was almost dead.
Jeff and Jenny were just entering Zocalo, the main square and historic center of Mexico City and one of the largest city squares in the world.
"Suddenly the earthquake alarm went off," he said. They knew they were earthquake alarms because two hours earlier they were preparing to enter some Aztec ruins when they were turned back because of a major earthquake drill.
They were on their way to have lunch at Pujols, which the Wall Street Journal ranked as the best restaurant in Mexico City and Restaurant Magazine ranked as No. 13 in the world in 2013.
"We rushed into Zocalo to get away from the taller buildings," Jeff said. They noticed a dust cloud appear over the belltower of the massive Metropolitan Cathedral. "We thought it was coming down. People were screaming and crying. We had been in the tower an hour earlier. I can't imagine what it was like being up there. It had to be 30 seconds of pure hell," he said.
I read reports that Zocalo was one of the most damaged areas, but Jeff said they felt that the Condesa area, known for its nightlife, was more heavily damaged.
"Traffic was at a standstill," he said. "We saw an ambulance that couldn't move. All the traffic lights were knocked out. We only had about 500 pesos, about $40 in cash, so we decided to take the subway instead of Uber. But the subway was so slow we got off after two stops.
"We had skipped breakfast because we wanted to be hungry for Pujols. Almost everything was closed as we were walking back to our apartment. Finally we found a place that had orange juice."
Shortly after that they found street food and it was heavenly, he said. He had a tongue taco and Jenny had a cream of cactus taco.
Jeff emphasized that they were so impressed by how organized the response was to the earthquake.
When they finally got back to their two-story apartment they had no power or Internet. "But we had a couple beers," he said. (Jeff sent me an update saying a condo had collapsed in their neighborhood).
When I checked his Twitter site, @JeffScheid, I noticed he had posted a photo of their boat ride through the floating gardens in Xochimilco, a southern suburb of Mexico City. After retweeting his photo I wondered what kind of thrill ride that turned out to be during the earthquake. I got my answer a couple hours later when one of my 32,000 Twitter followers sent a video of the party boats bobbing in the canals as waves washed from bank to bank.
It was deja vu moment for me. I had my own wild earthquake adventure. I was in the press box at Candlestick Park in 1989 when the deadly World Series quake caused great damage. When I finally got back to the Nikko Hotel in downtown San Francisco, I had to hike about 12-15 stories since the elevators didn't work. I fantasized about a cold beer when I got there. Exhausted from the long walk to the hotel and the hike up the stairs, I cracked open an Anchor Steam. It was warm, but in that moment, it was the beer ever!
And suddenly the phone rang: It was Jeff, whose call had amazingly gotten through when the phone was dead the rest of the night.
They hope to fly out Wednesday. (Good luck with that). So happy you're safe. Here's hoping you can get out on Wednesday.
ON THIS DAY….
September 19, 1957: The U.S. government stages the first underground nuclear test in a tunnel 100 miles north of Las Vegas. There's no mushroom cloud for tourists to gawk at, as in previous tests, but the seismic waves from the 1.7 kiloton explosion are felt in Vegas and up to 2,000 miles away.
September 20, 2010: Paris Hilton pleads guilty to drug possession a month after she was arrested for having cocaine in her purse. She said it wasn't hers, but the plea bargain keeps her out of jail. Steve Wynn bans her from his hotels after the arrest, but the decree is lifted a year later.
SIGHTINGS Magician David Copperfield, taking in "Mike Tyson Undisputed Truth—Round 2" at the MGM Grand on Sunday night.
THE PUNCH LINE "(Monday), Trump posted a tweet where he referred to Kim Jong Un as 'Rocket Man.' Which beats the other nickname he gave him, Lil' Kim." – Jimmy Kimmel.
POWER OF THE PATCH!
TO BOOK NORM AS A KEYNOTE SPEAKER OR TO INTERVIEW YOUR GUEST OF HONOR AT YOUR PRIVATE OR CORPORATE EVENT, PLEASE CONTACT JOANNE DOWNEY AT WWW.JOANNELVCELEB@AOL.COM