STRANDED MIAMI TEAM EXPERIENCES LAS VEGAS HOSPITALITY (Concerned Miami Central football team members check their mobile phones for word from home after being stranded in Las Vegas by Hurricane Irma).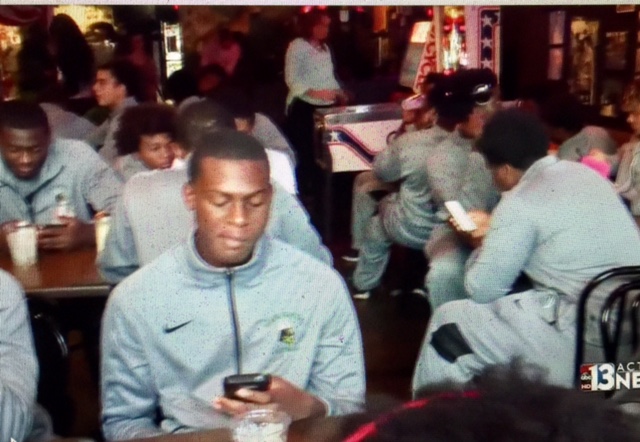 A stranded Miami high school football team got introduced to Las Vegas hospitality after being stranded by Hurricane Irma. Sixteenth-ranked Miami Central upset three-time defending national champion Bishop Gorman, 24-20, on Friday and could not return to Florida because the superstorm impacted air travel.
An Evel Knievel-themed pizza restaurant, Evel Pie, heard about the team's plight and picked up the tab for about 100, including parents, during a team dinner on Sunday night at the Fremont Street eatery.
A team mother had stopped in Evel Pie on Saturday with friends and mentioned the situation to bartender Chelsea Lavone.
She contacted owner Branden Powers, who made arrangements to host the team and its entourage. Click here for video: http://on.ktnv.com/2eYwtIM
Powers, a prominent nightlife executive, said it was "our honor" to pitch in and help the Florida group.
"Sure they beat our beloved home team but this is way beyond sports," he said in a telephone call with Norm.Vegas. "This is humanity helping one another. This is a Thanksgiving."
And, he said, "pizza is the most communally shared food on the planet. It brings people together and during these tough times when so many people try to separate us it is needed more than ever."
ABC affiliate KTNV-TV, Channel 13 reported the team planned to fly home on Tuesday. Bishop Gorman has helped defray expenses of Miami Central's extended stay, the station reported.
UPDATE: It's get even better. Las Vegas sports writer W. G. Ramirez @williegramirez has posted additional information on his Twitter site. He had an interview with Miami Central athletic director, Harold Barnwell, who said Bishop Gorman has picked up the cost of the Miami Central's rooms for as long as they are stranded. Gorman AD Grant Rice said they sent a taco truck to the team's hotel to provide lunch. To stay sharp, Central has been working out in the hotel parking lot. "Gorman has rallied around them to help as best as possible," said Ramirez, who has done a terrific job of staying on top of this story. Follow him on Twitter.
POWER OF THE PATCH!
TO BOOK NORM AS A KEYNOTE SPEAKER OR TO INTERVIEW YOUR GUEST OF HONOR AT YOUR PRIVATE OR CORPORATE EVENT, PLEASE CONTACT JOANNE DOWNEY AT WWW.JOANNELVCELEB@AOL.COM