RAIDERS RISE TO THE OCCASION WITH SPECTACULAR GROUNDBREAKING EVENT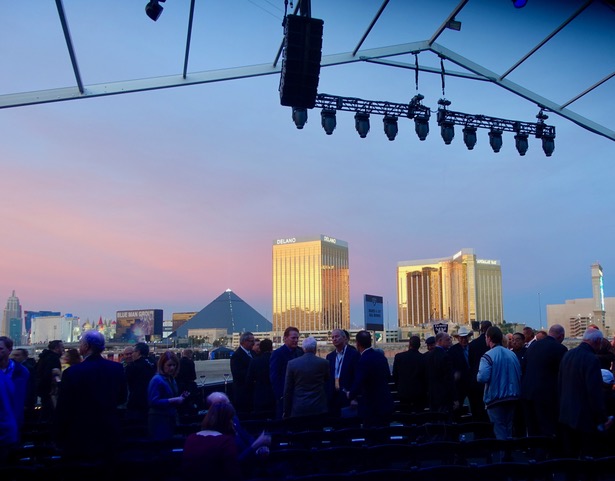 (CAPTION: NFL COMMISSIONER ROGER GOODELL CALLED LAS VEGAS 'A CITY ON THE RISE.' (PHOTO: NORM CLARKE) Nevada Gov. Brian Sandoval knew he couldn't put NFL Commissioner Roger Goodell on the spot. So he said it for him.
Sandoval welcomed Goodell to Monday's stadium groundbreaking ceremony for the Raiders and UNLV and added, "We know you can't say so but I don't know if there's a better backdrop in America, if not the world, for an NFL team, right?"
That backdrop, of course, was the famous skyline of Las Vegas, glowing brightly just past sunset.
Adding to the spectacle were 58 rays of light honoring the victims of the Route 91 Harvest country music festival and Prince protégé Judith Hill opening the event with the song, "Rise Up."
The Raiders didn't miss a note. The opening included a standing ovation for first responders and other emergency teams as they walked through the crowd of 600 who jammed the tent venue on the 62-acre parcel west of Mandalay Bay.
The special touches weren't lost on Goodell.
"Only in Vegas can you turn a groundbreaking ceremony into a show," he said.
The $1.9 billion, 65,000-seat stadium is scheduled to open for the 2020-21 season.
In his speech, Goodell called Nevada "the get-it-done state and that's the attitude of people here in Las Vegas that will help raise the bar for a sports and entertainment experience and make this stadium the place to be and not just football but other events throughout the year for all of Las Vegas and fans around the world for years to come."
He said the stadium will be "seen around the world as a reflection of the spirit of Las Vegas, a resilient city on the rise."
Ex-Raiders in attendance included: Howie Long, Jim Plunkett, Daryle Lamonica, Napoleon McCallum, David Humm, Fred Biletnikoff, Cliff Branch, Ted Hendricks, Lincoln Kennedy and Jay Schroeder.
"Well, now it's real, right?" said Sandoval, who called it "one of the most transformative moments in the history of Las Vegas."
TO BOOK NORM AS A KEYNOTE SPEAKER OR TO INTERVIEW YOUR GUEST OF HONOR AT YOUR PRIVATE OR CORPORATE EVENT, PLEASE CONTACT JOANNE DOWNEY AT WWW.JOANNELVCELEB@AOL.COM