REMEMBERING JERRY LEWIS (Photo: Vera Goulet)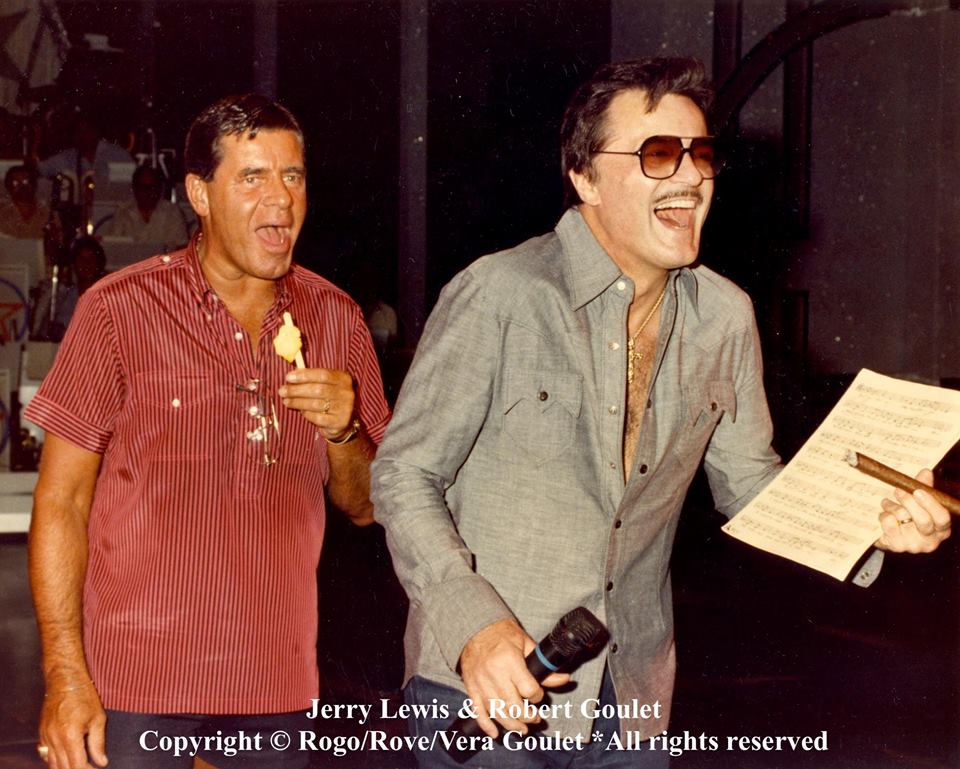 My favorite local Jerry Lewis story, so far, comes from Dave Cokin, the long-time sports radio host.Cokin posted it on Facebook earlier this week:
"Happy trails, Jerry Lewis.
I have to relate a quick story from way back when, sometime in the 1980's, can't remember the specific year.
I'm eating dinner at Tony Roma's. Back in those days, the spot on East Sahara was always packed. So every minute or so, voice comes on the loudspeaker, 'Smith, party of 4,' whatever.
Anyway, it's business as usual when all of a sudden, there's chaos. Announcements are being made in very rapid succession, each in a different ridiculous voice. No one can understand any of the names, of course.
Naturally, everyone wonders what the hell is going on. Jerry Lewis had commandeered the mic and was having some fun. I can't put into words how hilarious this was, and the whole restaurant was cracking up.
RIP Mr. Lewis."
Lewis died on Sunday at his home following recent hospitalization. He was 91.
The New York Times described him as "adored by many, disdained by other, but unquestionably a defining figure of American entertainment in the 20th century."
He had his battles with the media over the years and I was among those he literally called on the carpet – as in summoning me to his home.
This was around 2002, when Sean Hayes was starring as the flamboyant Jack McFarland in "Will & Grace," the hit NBC sitcom that ran from 1998 to 2006.
I had written two items that set him off. One was about a fan, a lady, who was allowed to present him with a portrait of Lewis backstage after a show at The Orleans. Lewis stared at it and then placed it in a garbage can. The fan was devastated. A spy called me about it.
The other mention of him in my column involved Hayes being cast to play Lewis in a TV show about his years with Dean Martin.
I had read a report that Hayes was concerned his portrayal might offend the comedy giant who was known to have a temperamental side.
He greeted me at the door and led the way to his living room.
He sat down at a big desk and invited me to occupy the chair across from him.
He started by looking up at a painting of Dean Martin across the room.
His demeanor changed as he sort of went into acting mode, like he was talking to Martin.
Lewis said something along the lines of "Why did you have to die, you glorious son of a bitch?" And seemed choked up. I got the impression I was not the only person he had that little Dean "chat" with and later learned it had indeed happened to other journalists.
Then he got down to the reason I was there. He reached over and took a sheet of paper from thick stack of sheet paper.
He read what a big-city critic had written about him and then commented on why the critic had no clue as far as what he was talking about.
This went on for 10 minutes. Lewis reading the clippings to me and repeating the venting process. After reading aloud one of the more caustic reviews, Lewis told me he got the critic's number and called him at his desk to give him an earful. The critic hung up. Lewis called him again. No answer. He called again. No answer.
"He could dish it out be he didn't have the guts to talk to me," said Lewis.
As he reached over to grab another copy of a clipping, and said, dramatically, "And now, we come to a little piss-ant of a paper, the Las Vegas Review-Journal."
He read aloud my column about Sean Hayes' comment then looked me square in the eyes.
"How do you think my 10-year-old daughter felt when she read a word like (temperamental)?"
Trying to be as diplomatic as I could be, I said, "Jerry, you have a bit of a reputation for being difficult."
He glared at me and said, "You would think a writer who works for the local paper would want to cultivate a good relationship with someone who's been in this city so long and knows so many people in the business."
I got his drift. If I played ball, the better chance I had of benefitting from the friendship.
I agreed. When I left I thought we had buried the hatchet.
Some months later, when relations worsened between the U.S. and France over France's refusal to join President George Bush's declaration of a "War on Terror" and invasion of Iraq, I thought Lewis might have a strong opinion on the topic, since he was beloved in France.
When I reached him on his yacht near San Diego, he was cordial enough until he heard the question.
"Nice try," he growled. "I see what you're trying to do," he said. The suggestion, I guess, was that I was trying to ignite a firestorm.
I wasn't. I was asking what I thought was a pertinent question. He had close ties to France. I thought his fans would like to know how he felt about it. I had no agenda. Had I been working for The Associated Press, I'm certain they would have asked me to get a comment from him on the issue.
It was obviously a short conversation. He called me a couple times in the future to pass along news about his career and I was happy to have it.
But it would be wrong to say we had a relationship.
What I do have is nothing but fond boyhood memories of his films and deep admiration for his genius.
AUGUST FLASHBACKS:
August 23, 2010: Ximena Navarrete of Mexico is crowned Miss Universe at the Mandalay Bay. It is the first time Miss Universe owner Donald Trump returns to Las Vegas since 1996. Navarette is the second Mexican to win the title, and both won their crowns in Las Vegas.
August 24, 2007: The city completes a $5.5 million renovation of the Fremont East District, a seedy three-block area of downtown aiming to lure nightlife and culture. The neon-laden district reminiscent of old Vegas glamour becomes popular among younger visitors.
August 25, 2005: American Idol runner-up Bo Bice is released from Desert Springs Hospital, where he underwent emergency surgery to remove an intestinal blockage. He was rushed to the hospital after arriving in Las Vegas on tour with his fellow Idols. He recovers and rejoins the tour the following month.
August 26, 1964: One day after a fire causes $1 million in damage, the Sahara Hotel reopens with its giant marquee proclaiming, "Visit the Hottest Casino in Town." Buddy Hackett and Buddy Greco are the headliners. The Beatles had just ended their fan-besieged stay at the Sahara for their concerts in Las Vegas.
August 27, 1996: Greg Morris, the brainy technician on TV's Mission Impossible, is found dead at his Las Vegas apartment. The 61-year-old actor, whose son Phil played wacky lawyer Jackie Chiles on Seinfeld, suffered from cancer.
August 28, 1992: Honeymoon in Vegas, a romantic comedy starring Nicolas Cage and Sarah Jessica Parker, opens. The dramatic highlight features a jumpsuit-clad Cage skydiving into Las Vegas with the "Flying Elvises" to get his girl back. The film earns $35 million.
August 29, 2009: On what would have been his 51st birthday, Michael Jackson receives a star on the Palms Walk of Fame as fans and his father Joe look on. The honor was to have been bestowed after Jackson "This Is It" shows in London, but he died in June just before launching the tour.
August 30, 1984: Stuntman Dan Koko jumps 326 feet from the top of Vegas World Hotel, ripping his jumpsuit but emerging from the 20-foot-deep airbag unscathed. He earns $1 million in cash from owner Bob Stupak for the record-setting plunge.
August 31, 1989: Moe Dalitz, a prominent Las Vegas casino owner, philanthropist, and frequently accused – but never convicted – mobster, dies at home at 89. Contrary to many predictions over the years, the good friend of Mafia kingpin Meyer Lansky passes away of natural causes.
THE PUNCH LINE: "In Saudi Arabia, a 14-year-old boy was detained for dancing to the Macarena. You know, I don't say this often but I'm going to side with the Saudi government on this one." – Conan O'Brien
POWER OF THE PATCH!
TO BOOK NORM AS A KEYNOTE SPEAKER OR TO INTERVIEW YOUR GUEST OF HONOR AT YOUR PRIVATE OR CORPORATE EVENT, PLEASE CONTACT JOANNE DOWNEY AT WWW.JOANNELVCELEB@AOL.COM