SAYING FAREWELL TO AN OLD FRIEND (Photo: Robin McAuley and Paul Shortino from "Raiding the Rock Vault")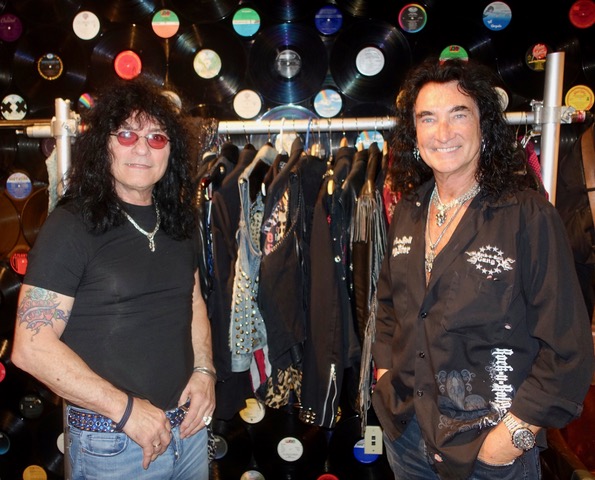 It's tough to see an old friend move on so there was sadness mixed with nostalgia over the sudden closure of N9ne Steakhouse at the Palms on Wednesday. Not that I expected it to rebound to its former glory days as celebrity central; that rarely happens when a "hotspot" loses its sizzle in Las Vegas. But, in this case, I thought the Fertittas' (Station Casinos) purchase was positive news for executive chef Barry Dakake.
I reached Dakake shortly after the news broke. He was in Los Angeles at the Dodgers' game against Arizona. It was noisy and hard to hear. But he emphasized "It's all good," and he sounded upbeat, like he's got some options.
According to Al Mancini's updated report in the Review-Journal, Dakake is sticking around, at least for now, to put out a "best of N9ne" menu at Nove Italiano at the top of the Fantasy Tower.
See Mancini's stories here: http://bit.ly/2w9hRZx and http://bit.ly/2gQNMMd.
N9ne got its name in Chicago from partners Michael Morton and Scott DeGraff, and chef-partner Michael Kornik, who were nine when they met.
Morton and DeGraff had got a foothold in the nightclub scene when they ran Drink for a few years in the shadow of the Hard Rock Hotel & Casino, owned by Morton's brother Peter Morton.
They partnered with Maloof, who was looking for a steakhouse as a magnet for the celebrity crowd.
They succeeded beyond their wildest dreams, when A-listers, sports stars and CEOs kept coming back for the big steaks and Hollywood vibe. Britney Spears elevated the buzz even more when she got married while partying during a New Year's spree in 2004. The good times rolled until the recession hit with full force in 2008.
Even before the crash, there was friction between DeGraff and Maloof. DeGraff was, to put it mildly, a handful. The night the partnership opened the Playboy Club atop the Fantasy Tower, I was in a stairwell, dictating a story when DeGraff got my face. He was so incoherent I wasn't sure what his beef was. I later learned he was convinced he wasn't getting enough credit for the success of the Palms.
With revenue collapsing, Maloof and disgruntled investors won a nasty legal battle in 2010 to oust Nine Group from the hotel and retained the restaurant. DeGraff was found dead in the garage of an Aspen home on Thanksgiving Day 2011. It was ruled a suicide. He was 47.
By June 2011, it was over for Maloof and his family. Hard hit by the financial crash, they had gone from a controlling 85 percent of the Palms to two percent. An era ended on Wednesday, but the memories won't.
Some of my favorites stories:
Cloud 9: Not long after the Palms opened, Muhammad Ali called a N9ne busboy over to the champ's table and asked him his name.
Ali shook the kid's hand. The busboy walks away on Cloud 9.
Twenty minutes later the busboy walks by the table and Ali motions him over and hands him a folded linen napkin. The busboy thanks him and heads back to the kitchen. I can only imagine the disbelief when the busboy opened the napkin and there was a drawing by Muhammad Ali.
He had drawn a boxing ring with two stick figures wearing boxing gloves. Over one was the busboy's name. Over the other, two words: The Greatest.
That had to be the greatest tip that kid ever got.
Presidential pardon: One night President Bill Clinton was having dinner in a booth at N9ne.A nervous busboy spilled mashed potatoes on Clinton's lap.
Clinton whispered to Maloof: "Please don't fire him."
Short honeymoon: A little more than 12 hours after Spears got married at dawn at a chapel on the Strip, her annulment dinner was held at N9ne. Her future ex-husband attended.
Don't feed the animals: A sighting that got the attention of the Clark County health department: Spear, feeding shrimp to her tiny dog on the bar at N9ne. The health department paid a visit after reading the sighting.
Note to self: Weeks after having lunch with Pete Rose and giving him my new book about Las Vegas, he walked by my table at N9ne.
My dinner guest, Matt Drudge, points out Rose.
I called out several times. Rose keeps walking. Finally turns around and gives a weak Pope wave and a forced smile.
Drudge: "I thought you had lunch with him?
Next thing I know, Rose walks up to the table. I stand up to introduce him and w-h-a-c-k! He bitch slaps me and says, "You son of a bitch. You made me the fifth worst tipper in your effin' book."
Note to self: The next time I slam somebody in my book, don't give them a free copy."
FOR SALE: TUPAC'S CAR Two decades after rapper Tupac Shakur was fatally shot in Las Vegas, the targeted car is up for sale for $1.5 million.
The shooting happened on Sept. 7, 1996 at a red light at East Flamingo and Koval Lane.
Ryan Hamilton of Celebrity Cars said the car, driven by Death Row Records founder Suge Knight, was originally leased by his company.
Shakur and Knight had just left the MGM Grand where they attended the Mike Tyson-Bruce Seldon fight.
Shakur died six days later. He was 25. There were suspicions the murder was linked to a feud among rappers but no arrests were made.
Hamilton said the 1996 BMW 7 Series has been completely restored to the condition it was in before deadly incident and has just received a fresh coat of black paint.
"There is a small indentation where we believe one of the bullet holes was but it is hard to tell," said Hamilton. "Other than that it is fully restored."
It has 121,000 miles on it.
THE SCENE AND HEARD I tweeted earlier today (9-7) that some shocking nightclub news is about to break. My source has never given me bad info…
Two of Las Vegas' best storytellers will be at the podium next week. Prolific author Jack Sheehan will share "My Most Interesting Interviews" on Tuesday (9-12) at the Bob Maheu luncheon at the Las Vegas Country. A popular public speaker, Sheehan has written and published over 25 books and sold four screenplays, with two more in development. $30 or $35 at door. Contact: Lynn Warren lwarren@kinevada.com
On Wednesday, 9-13, Review-Journal man-about-town columnist John Katsilometes will talk about his favorite stories during Bruce Merrin's Stirling Club luncheon at Gordon Biersch brew pub. John's been in Las Vegas more than 20 years and has covered the entertainment scene for most of that time.
Both Jack and John are among the most humorous speakers in town and great guys. $26. Contact: CelebrityspeakersPR@gmail.com
Join me Sept. 24 for my sit-down with Raiding the Rock Vault stars Robin MacAuley (Survivor, among others) and Paul Shortino (Quiet Riot, among others) on "Conversations with Norm" at Cabaret Jazz at the Smith Center for the Performing Arts. Starts at 2 p.m. Tickets: $25. My announcer is Shawn Tempesta of KTNV-TV, Channel 13. Proceeds benefit the education and outreach programs at the Smith Center. Everyone involved donates their time.
ON THIS DAY… Sept. 8, 1991: The annual convention of the Tailhook Association, an organization of Navy aviators, begins at the Las Vegas Hilton. Reports of drunken debauchery and sexual assaults spark a scandal that damages senior officers' careers and results in new safeguards for treatment of women in the military.
MAY I RECOMMEND… My wife Cara and I had dim sum at Lucky Dragon's Pearl Ocean on Sunday. I'd rate it a 9. The Singapore noodles, with a generous portion of BBQ pork, plus red and green peppers and onions, were the best I've had. The soup-filled dumplings were a big hit as well. Loved the egg custard golden bao. Two other takeaways: They don't have push carts going by every minute, with the annoying hawking that interrupts table talk. And the service was excellent. We were especially pleased to find out that locals get a nice discount by showing their ID.
CORRECTION OF THE WEEK From the Milwaukee Journal Sentinel: "A story in Friday's Journal Sentinel on Jerry Kramer being nominated for the Pro Football Hall of Fame incorrectly named Ringo Starr as a center for the Packers instead of Jim Ringo."
THE PUNCH LINE "Today, Dennis Rodman offered to straighten things out between Trump and Kim Jong-Un. People were like, "Can't believe I'm saying let's give it a shot!" – Jimmy Fallon
POWER OF THE PATCH!
TO BOOK NORM AS A KEYNOTE SPEAKER OR TO INTERVIEW YOUR GUEST OF HONOR AT YOUR PRIVATE OR CORPORATE EVENT, PLEASE CONTACT JOANNE DOWNEY AT WWW.JOANNELVCELEB@AOL.COM