WYNN CODE-NAME GAME: 'HELLO NATASHA, THIS IS BORIS'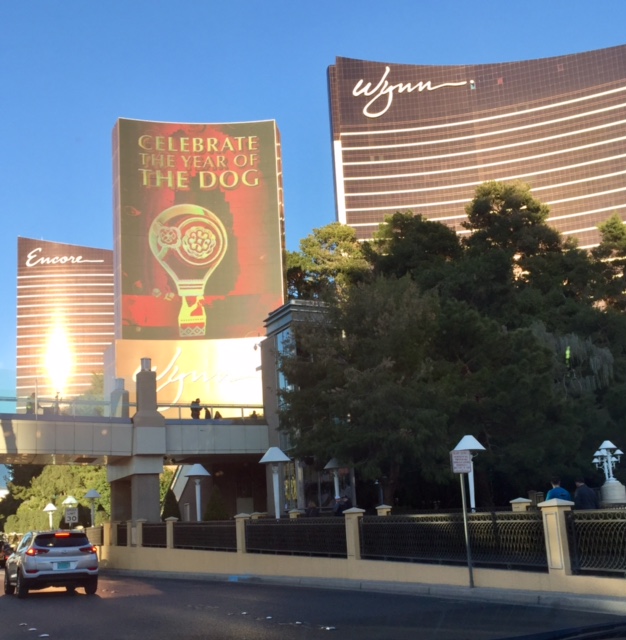 (CAPTION: STEVE WYNN HAS TO VACATE HIS PALATIAL RESIDENCE BY JUNE 1.) PHOTO: NORM CLARKE
Disgraced casino developer Steve Wynn sometimes used the code name of "Boris," after the bumbling Russian spy in the "Rocky and Bullwinkle" franchise, during his decades-long pursuit of beautiful women.
According to a Las Vegas woman, she met Wynn at one of his Bellagio restaurants in 2001. She was seated at a table with Wynn's wife, Elaine, when Wynn came to the table. After she left the table and was leaving Circo Osteria, the woman said Wynn gave her his business card and said he wanted to check out the new nightclub where she was an executive.
(Correction: In my original report, I stated Wynn showed up a few days later for a nightclub tour. He requested one but didn't follow thru.)
"The next time we spoke, he said 'I want you to call me Boris and I'll call you Natasha.' I thought that was weird," said the woman, who spoke on the condition of anonymity.
For reference, Boris Badenov and Nastasha Fatale were villainous spies on the "Rocky and Bullwinkle Show" animated cartoons that ran from 1959 to 1964.
Not long after her introduction to Wynn, the stunning nightlife executive got a call from "Boris." He wanted her to come down to the Desert Inn, the legendary Las Vegas property Wynn had purchased to convert into Wynn Las Vegas to honor his wife, Elaine.
"I was in my 20s. Not for a minute was I thinking that it was anything more than a business opportunity," she said.
But she had a conflict. "I told him I couldn't come down. My mom is in town and we were driving around."
She never heard from Wynn again. She has a theory why: "I didn't work for him so he couldn't coerce me. "
She added, "I don't think I was the first Natasha."
Sordid tales of how Wynn, now 76, wooed and allegedly pressured female employees for sex led to his resignation Feb. 6 as CEO and chairman of the board of his Wynn Resorts empire. On Jan. 27, he stepped down as finance chairman of the Republican National Committee, an appointee of President Donald Trump, when he was enveloped by a wave of sexual misconduct claims. "The idea that I ever assaulted a woman is preposterous," Wynn said in a statement.
The Las Vegas Review-Journal reported over the weekend that Wynn's separation agreement calls for him to leave his residence on the property by June 1 and includes a two-year non-compete clause.
For most of his five-plus decades in Las Vegas, Wynn was, allegedly, a Teflon Don Juan, due to his powerful status.
It was a hard fall that few saw coming, although there were rumblings of hanky-panky for years.
About 12 years ago, in my role as the Las Vegas Review-Journal's celebrity columnist, I was interviewing a famous neighbor at his Las Vegas Country Club home. Emilio Muscelli was the executive maître d' at The International (later the Hilton) when Elvis Presley's comeback was all the rage.
Muscelli, a Las Vegas maître d' since the late 1950s, knew everybody, from the Rat Pack to Presley to the bigshots. He pulled out a treasure trove of photographs. After 20 minutes of showing me photos and telling insider stories about the biggest stars he knew, he handed me a photo of someone in a white wig who appeared to be at a Halloween party.
The man was elaborately disguised as Arte Johnson's dirty old man character in the 1960's hit TV series "Laugh-In." Johnson's lascivious character always paid a price for propositioning Ruth Buzzi's spinster character. She repeatedly knocked him silly with a big purse.
Muscelli's conspiratorial smile hinted he knew more than he was letting on.
"That's Steve Wynn!" said a gleeful Muscelli, in his rich Italian accent.
It was an inside joke, and I got it. I had heard rumors of Wynn's roving-eye reputation. "Can I borrow it?" I asked. "No," said Muscelli, shaking his head and pulling away the photo. His personality and expression immediately changed. It was the same look I've seen on others who realized they said too much in a city known for keeping secrets discreetly buried.
Muscelli died April 15, 2014 at the age of 91 and many old Vegas secrets, I'm certain, died with him.
THE SCENE AND HEARD
A lot of NHL experts are trying to figure out how they missed on the Vegas Golden Knights' breakout star William Karlsson. His 30 goals and 21 assists rank him among the league's top five scorers. I have a theory: Maybe it was the Elvis factor. He was born in Sweden on Jan. 8, 1993, on what would have been Elvis' 58th birthday. Maybe it was destiny that Karlsson would light up Las Vegas.
ON THIS DAY
February 21, 1956: "Meet Me in Las Vegas," a corny musical comedy about a cowboy (Dan Dailey) whose gambling luck improves when he holds the hand of a pretty dancer (Cyd Charisse), has its world premiere in Las Vegas. It's best remembered today as a window into how the city looked in the mid-'50s.
February 22, 2008: Rita Rudner, one of Las Vegas' most successful comedians, records her 2,000th Vegas show at Harrah's for a PBS pledge drive special and comedy DVD. She began her Las Vegas run in 2000, moving to the city and rarely leaving to perform elsewhere.
February 23, 1857: Mormon missionaries who had struggled to establish a settlement at Las Vegas for two years receive a letter from leader Brigham Young summoning them back to Salt Lake City. They were plagued by poor crops, dissension and tough living conditions, and the fort is soon abandoned.
February 24, 1989: The Nevada Gaming Control Board fines Imperial Palace owner Ralph Engelstad $1.5 million for keeping a secret room full of Nazi knick-knacks and holding birthday parties for Adolf Hitler. Engelstad, who could have lost his casino license, apologizes and vows no more Hitler parties.
February 25, 2004: The Killers, a rock band that started in Las Vegas, come home for a show at the Ice House early in a lengthy world tour to support their smash debut album Hot Fuss. It's just two years after group founders Brandon Flowers and Dave Keuning first sang at an open mic night at a Vegas club.
Media Notes
Longtime broadcasting executive Tom Humm is out at Beasley Broadcast Las Vegas as vice president and market manager. His successor, Dennis Gwiazdon, was recently announced. He comes to Las Vegas from Nashville where he was market manager for Midwest Communications and South Central Communications. The Beasley Vegas cluster includes KCYE-FM, KCYE-HD2, KKLZ-FM, KDWN-AM, KOAS-FM and KVGS-FM. Gwiazdon previously worked as a vice president/general manager in Seattle (KRWM), San Diego (KGB-FM, KPOP-AM, KMCG and KXGL) and Salt Lake (KKAT)…
Small world: Laura Herlovich, who built PR Plus into a powerhouse, was handling public relations for pro skateboarder Tony Hawk's Boom Boom Huck Jam in 2002 when he made a request. Hawk needed a ride to an interview and his teen-age friend wanted to be dropped off at Gameworks on the Strip. Later Herlovich picked up Hawk and the shy ginger-haired kid in a hoodie for the ride back to the event. Four years later while watching the Torino Olympics, she recognized the kid when he won the gold medal in the half pipe. Four years later, Shaun White won his second gold in the event and claimed his third in the Korean Olympics last week. Herlovich figures she'll run into White again. They are now neighbors in Encinitas, Calif.
SIGHTINGS
James Kennedy of "Vanderpump Rules," taking in "Sex Tips for Straight Women from a Gay Man" at Paris Las Vegas on Sunday, as Caesars Entertainment "was sending out a survey about a new restaurant idea, Vanderpump," according to Scott Roeben of VitalVegas.com.
THE PUNCH LINE
"The Taj Mahal is currently undergoing its first cleaning since its construction in the 1600s. 'Maybe we should do that,' said New York." – Seth Meyers
TO BOOK NORM AS A KEYNOTE SPEAKER OR TO INTERVIEW YOUR GUEST OF HONOR AT YOUR PRIVATE OR CORPORATE EVENT, PLEASE CONTACT JOANNE DOWNEY AT WWW.JOANNELVCELEB@AOL.COM